Instead of going with standard size tile choices for the floors in your bathroom or kitchen, spice things up a bit and personalize it with pebble stones. Pebble stones come in a variety of styles, shapes, and colors, and when used to accent or compliment your larger tiles, they create a unique finish you're going to love.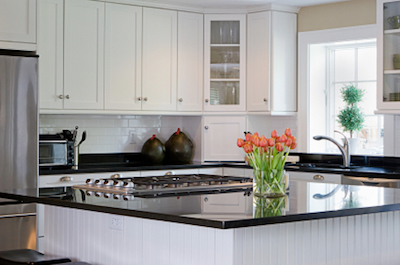 But working with pebble stone is different than working with other tiles. And though we know you're going to love the look, there are a few things to keep in mind.
Pay special attention to pebble floors
When designing showers made of pebble stone, it's important to remember that they are slower to drain than other types of tiling. Increase the pitch and use epoxy grout can help with quicker dry out times between showers. Many contractors suggest at least a 2 percent pitch for pebble shower floors, or a ¼ inch per foot.
Details make the difference
With pebble stone, the look is often created in a hodgepodge sort of way. Yet it's important to remember that focus on the detail is important. Good design and attention is placed on how the entire look comes together. That means how the pebbles fit when they come together in corners, wrap around vanities and tubs, and join together at windows and doors. This doesn't happen with guess work. Instead, map out the way the tile comes together, allowing the grain of the tile to continue around for a polished look.
Mix up colors and styles
Tiles are meant to compliment and contrast. You don't have to use the same tiles and patterns on floors, walls, and ceilings. Adding a second tile choice on a feature wall helps add character to a small room. It can also make it appear larger, cozier than one color can do on its own. Don't forget to take into account water content. The heavier the mineral buildup in your water supply, the more deposits you'll have on your pebble tile. And if it's used throughout your shower, on floors and walls, it can cause drainage issues. Be sure to talk with a flooring expert before you make your final decisions.
Have you decided to use pebble tile in your renovation?