Thinking of introducing a pattern into your flooring design? Want something unique, something no one else will have? Luckily there are many materials you can use to create a look that is unique to your personality and style. There are many ways you can make your room stand out.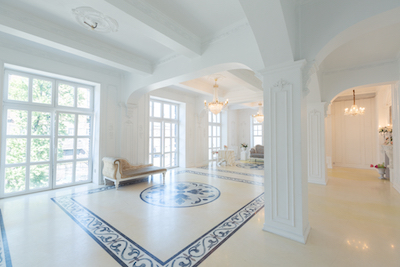 Try Creating Patterns With Stone and Slate
One of the easiest ways to create a unique look is with stone and slate. We're not just talking about tiles; you can achieve a beautiful look with vinyl sheet, vinyl tile, or laminate too. Today's vinyl has incredible realism and depth to the color patterns that emerge from the top layer. And what's best, vinyl doesn't have the same cold feeling as tile – plus it adds cushion where you need it most. 
Of course, if you want natural stone tile, it can be a wonderful addition to any home. And here in Colorado, if you're worried about the coldness of tile, try installing it with radiant heating. It makes your floors the perfect temperature no matter what time of the year. 
While some homeowners choose one pattern and one style, and install the tiles throughout their rooms for a uniformed look, you can stagger the design by using multiple materials for a perfect look. How about two different sized tiles in random placement? Or two different pattern – herringbone and basketweave – to create a checkered pattern? The possibilities are endless when you put a little imagination into the process. 
It's Easy With Natural Hardwood or Laminate
We live in the Rocky Mountains, and nothing says "mountain living" more than hardwood flooring in your home. 
Hardwood stretches beyond traditional materials such as oak. You can up the "wow" factor in your home by utilizing exotic woods. How about Cherry? Or maple? How about selecting a hardwood with an interesting grain pattern? Or switching it out and installing a darker wood?
You can also create dramatic appearances by using two hardwoods and variating the design. This can give you a flooring with light and dark shades throughout, with interesting patterns as the grains change, mix, and intertwine. 
We're also seeing homeowners dive into hardwood flooring of variating size. Mix wide plank with standard plank size for more depth to your entire room. 
Whether you choose vinyl, engineered tile, laminate, or hardwood, there are options for everyone. And with just a little imagination in ingenuity, you can create a flooring for your room you'll love for years to come.