Maybe you're ready for an upgrade – modern flooring that moves you away from the retro look you've been living with for years.
Perhaps it's time for replacement – you've been hiding stains and wear marks for years by moving furniture around.
Whatever your reason, it's time to renovate your space and add the flooring you've been dreaming of. You have your eye on something new, and it's time to make it a reality.
No matter what stage you're currently at in your remodel, there's more to laying new flooring into place than just finalizing your selection. Once you've chosen your flooring and the contract is signed, you'll have to get ready for your new flooring installation.
Time your new flooring installation carefully
If your new flooring is a part of a complete renovation, it's essential to time installation carefully. Talk to your contractor; when will the other big projects be complete?
Installing your new floors should be completed after all other projects are complete. You don't want them dragging heavy appliances across your floors, or splattering paint that will mar the finish from the start. Installing new floors should be the last project on your renovation list.
Finishing work has an order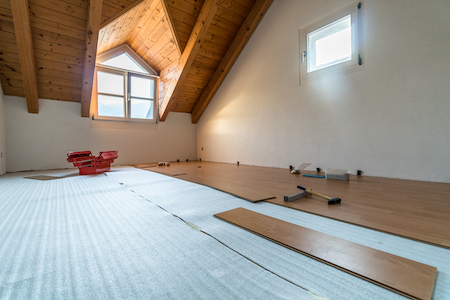 Whether you're rehanging doors after a remodel, or are replacing them with something new, be sure your new doors are at the proper height before the installers arrive with your new floors.
New flooring can result in a rise in height variance. For example, hardwood can rise significantly depending on what hardwood you choose and the subfloor needed before installation.
While the installers may take the doors off to make it easier to work, by ensuring they are properly aligned ahead of time, you won't have to worry how they'll fit. You can check before to see how much they will need to be adjusted before they arrive. That way a contractor can drill new holes and move hardware as necessary.
Baseboards, trim, and other finishing work will also be completed after your flooring is in place.
Have a work zone ready
New flooring involves using a lot of different tools and materials to complete the job:
Subfloor material
Flooring
Adhesive
Fasteners
Tools and machines
While some flooring jobs can be completed in a day, others may take several days, depending on the size. If you have a secure area for them to place their equipment, it will shorten the timeframe of having to pack up each day. A secure area will also make it easier for production, from mixing adhesive to cutting tiles.
A garage makes a perfect place to create a work zone. Make sure the path from there to where they'll be working is free and clear as well.
Prepare the area
Before the installers arrive, take the time to properly prepare the area. This ensures the flooring installers can get in, complete the work, and get back out as quickly as possible.
As you're finalizing your purchase, talk about preparation too. Some installers will help you move heavy furniture for an additional fee. Others require separate installers to ensure the subfloor is ready and in place. An all-inclusive contract will help you determine how much prep work you'll have to complete.
At a minimum, secure all breakables, valuables, and other small items beforehand. Remove items from the walls if they are easily bumped. If you can move furniture to other parts of your home, have that job completed before they arrive.
You should also move through neighboring rooms and remove items that may be harmed in the process. Cover furniture if there's a risk of damage. For example, if you'll be installing new hardwood, installers may sand it once it's in place. Grit can easily travel to other rooms in your home.
Ensure the safety of your kids and pets
Depending on the flooring materials being installed, this can be a several-hour to several-day process. Because installers will be working with heavy, sometimes dangerous machinery, and will be leaving doors open and moving back and forth, it's important that kids or pets won't be at risk. Find a place in the house to secure them, for their protection, as well as the installers.
If that isn't possible, it might be time to arrange a sitter to ensure their safety for the time it takes for installation. Grandma and grandpa may be the perfect choice to give you a chance to get through the entire process without having to worry about their safety.
Clear your schedule
Many homeowners install new floors with an end-goal in mind. If you have a party or family gathering on the calendar, be sure to schedule your flooring installation with plenty of time for errors.
There's always a chance of mishaps along the way. The subfloor may take longer to install than anticipated. A problem is uncovered as the old floors are removed. Or the prep work doesn't go quite according to plan.
Even in the best of circumstances, the unexpected often happens. If you have the added stress of a tight deadline, it will only add to your problems. Give yourself plenty of time, and you'll reduce your stress.
Verify the materials
One of your first tasks on the day of the installation is to verify the materials are what you ordered. Be sure to open boxes to verify the product is the same in every box. Look at the color. Check out the patterns. It's easier to make adjustments before any work begins.
If you're working with hardwood, the planks will have to acclimate to your environment before work begins. Plan on having the boxes in your home a few days before installation. This gives the flooring material time to maintain temperature and humidity levels before the installation process begins.
Clean up
While the flooring installation crew will remove boxes and debris, you'll be in charge of final cleanup to be able to start enjoying your new floors.
Talk with the installers to determine how fast you can start cleaning. With some adhesives, it's suggested you wait a few hours or days for curing, to ensure the materials properly adhere to the subfloor.
No matter if you're installing new carpet, hardwood, vinyl, or tiles, preparation is critical. The more you know before installation day, the better your experience. When you know what to expect, you can be ready for all that will happen.
Then when the installers drive away, and your last piece of furniture is in place, you'll be rewarded with new flooring that you'll enjoy for years.