Have you jumped on the remodeling bandwagon? People all across the US are rethinking their living spaces and changing things up.
According to the Leading Indicator of Remodeling Activity put out by Harvard University's Joint Center for Housing Studies, the remodeling industry will have another record year with remodeling expenditures expected to reach $352 billion in 2021, up from $339 billion in 2020.
That's because people are buying up homes in record numbers, and when they get there, they want to make the space their own. Even if you choose to stay in your existing home, it's difficult not to want to lighten, brighten your surrounding area.
No matter what color you decide to paint the walls, or what furniture you choose to decorate the room, it all starts with the floors. Installing new floors gives you a base to grow upon. New floors can make your home more durable, more comfortable, even give it more resale value.
Where do you begin?
Create a plan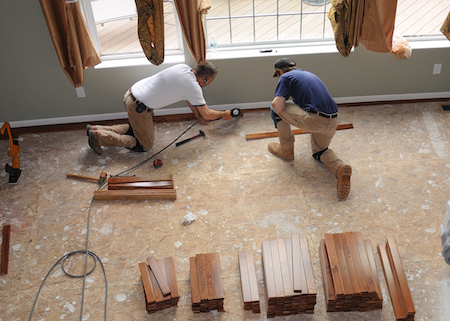 Before you make your final selection, talk with a flooring expert. They can help you understand what flooring material will work best in your unique situation.
Tell them what you like and a little about your lifestyle. This gives them a big picture view of what your budget is, what time frame you're looking at, and more info about the project itself.
Without this big picture view, you might be missing crucial information about what it takes to make the most of your new flooring choice. Are you budgeting enough for materials and installation? Do you understand how long each material truly will last? One of our flooring experts will walk you through from beginning to end.
Dig into the details
Carpet or hardwood? Laminate or luxury vinyl? As you begin to learn more about each product, you might discover a material you never thought to consider before. As you make a selection of material, you'll dive even deeper into your choices.
What color do you like? What pattern works best for your needs?
Even manufacturers create different products for different scenarios. Does your basement occasionally flood? Maybe resilient flooring is the way to go. Is your family growing? Maybe carpeting will be best suited to your needs.
Don't forget to consider warranties, and understand what goes into a final quote. This is especially important if you are comparing products or installers. Just because something appears to be a good deal, doesn't necessarily make it so. At this stage, there isn't a wrong question. If you don't fully understand something, dig deeper until you do.
Sign on the dotted line
Once you make it official, your installation will move into motion. You'll get a date on the calendar for your installation to begin. Be aware that each flooring material has its own needs and requirements. If you're installing hardwood, for example, the product will need to sit in your home for a few days to acclimate to your environment before final installation.
If materials need to be ordered, that occurs before your scheduled date. If you have any questions during this timeframe, be sure to bring them up. It's better to be overprepared than underprepared as you get ready for your installation.
The big day
Are you installing new flooring in one room, two, or the entire house? There's a big difference in the way you maneuver on the day.
When you paint the walls, you simply move furniture away from it, and cover everything with drop cloths. It's fairly easy to ensure your surroundings stay safe in the process. Not so with flooring. What's currently on the floor must be removed to ensure the installation process runs smoothly.
Here's a list of just some of the things you can do to be better prepared.
Remove all breakables – obviously, furniture needs to be removed. But don't forget about other things that can get damaged in the process. Pull frames and art pieces off the walls. Remove light fixtures and other materials that may be damaged in the process.
Ensure you know who does what – if you need help moving furniture, be sure you mention that to the installer. Otherwise, you might have added costs tacked onto your final bill.
Disconnect appliances – if you're replacing flooring in the kitchen, you might be moving appliances such as the range or the refrigerator. Be sure to disconnect them from gas hookups, electrical outlets, or water supply before they are moved.
Clean out closets and storage rooms – these are often the most chaotic rooms in the home. Be sure you've boxed up any items on the floor, and don't forget about materials hanging that might get in the way. Pantry items should be removed. Coats, boots, and other accessories from the mudroom. Those boxes you thought were just there for storage – they have to be moved too. If it will be impacted by the new flooring process, it has to be moved.
Remove doors – by removing doors from adjoining rooms, you'll ensure they don't get scratched, nicked, or damaged in the process. As you remove them, mark each door and put all hinges, screws, and connectors in a plastic baggie with the door. Mixing up hardware can cause all sorts of problems after the move as you try and reinstall.
New flooring height – different types of flooring will leave your floors new heights after the install. Carpet will impact doors differently than laminate or hardwood. Have you taken this thoroughly into account? Or you might have a door that no longer swings freely.
Remove baseboards – new flooring should be pushed as close to the wall as possible. Based on new heights and new materials, they might not fit as they did before. This helps to keep your baseboards in great shape, and allows you to adjust their height once the flooring has been installed.
Secure your pets – this might be the perfect day for them to visit neighbors, or attend doggie daycare. This much commotion in their home can set them off. And dealing with a barking dog all day will only add to your stress.
Have a prep area – depending on the material, the installer will need a place to cut and prepare the flooring material. If it's raining, it will need to be covered – your garage possibly? They will also need good lighting, an outdoor GFCI electrical outlet, and easy entry into your home.
The better prepared you are for installing new flooring, the smoother the project will go.
Is this the year you add new flooring to your home?