"I have a concrete subfloor in my walkout basement. Work is just about complete on the refinishing process, and I have my heart set on laminate flooring throughout. Does laminate work with a concrete subfloor? Anything in particular we should know before installation?"
Laminate flooring is a great choice for a walkout basement. Its durable, easy to maintain, will provide years of wear in an area of your home that is bound to get a lot more use in the coming years.
And while laminate flooring does work well over a concrete floor, there are a few things to keep in mind throughout the process.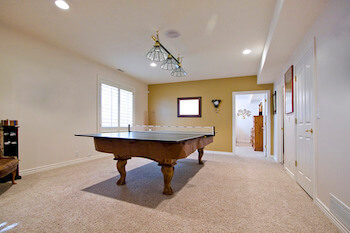 First of all, laminate flooring will only work on a concrete subfloor if the slab has a low moisture level. Too much moisture will quickly warp your laminate, which means you'll be replacing it quickly. Before you install, make sure your concrete slab has cured for at least 30 days. Then test the slab with a moisture meter to be sure it has an acceptable moisture reading; check with the guidelines on the instructions that come with the laminate. You'll usually find that the moisture reading can be no more than a 4.5 percent.
Keep in mind that concrete always gives off some moisture, so you'll have to install a vapor barrier between the concrete and the laminate for full protection.
Once you've determined the moisture level is acceptable, its time time to level the surface of the concrete subfloor. If you've ever walked on laminate floor and heard squeaking, its due to an unlevel subfloor.
While a subfloor will rarely be completely level, a good rule of thumb is to not have more than 3/16th of an inch discrepancy in a 10 foot span of space. If you find unlevel spaces, mark the areas where the discrepancy exists, and use a grinder to level out your work space for high spots, or use a trowel to spread leveling compound over the lows. Be sure to thoroughly clean the area and allow the compound to completely dry.
Once your concrete is settled, its time to install a vapor barrier and finish preparing your subfloor. Depending on recommended installation from the laminate manufacturer you've chosen, they may suggest installing an underlayment of foam sheeting to add additional stability and support once the laminate is in place.
Before installing your laminate, allow the cartons to settle into the room and acclimate to the humidity level for at least 2 to 4 days before installation.
Have additional questions? Give us a call. We would be happy to help you with all of your laminate flooring needs.