Want to renovate your kitchen and update it with modern materials? Look no further than tile.
The kitchen is one room which can use tiles in different ways. Not only can you use tiles on everything from the floor to the counters to the backsplashes, but you can also select colors, designs, and patterns that integrate into your decor.
Tile is a long-term investment, so it should be decided wisely to avoid feeling regret as trends come and go. When you select wisely, it will ensure a high-quality look and feel that can last for years.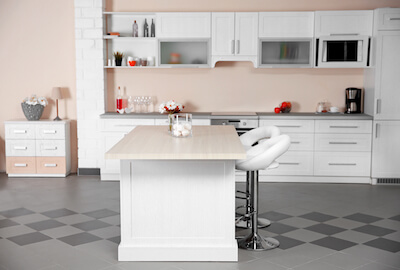 Cost
Most homeowners start the process with cost. While it's important to stick with your budget, it's also important to understand that quality is more important. It's better to stick with a higher-quality ceramic tile, for instance, than moving up to a lower quality stone tile that causes problems over time. Talk with a flooring expert and discuss both your needs and your budget.
Installation
Are you more of a do-it-yourselfer? Do you need your new floors in a timely manner? Some kitchen tiles are easy enough for a novice to install. Just set and click into place. But if you have difficult situations – a floor that isn't straight, for instance – it might be better to let an expert complete the task from beginning to end.
Nature Lover
Are you looking to stay as green as possible? Do you want to avoid chemicals wherever you can? Be sure to mention that to the flooring rep when you're shopping around. Some products are eco-friendly and are formed naturally. But it doesn't stop there. Also, ensure the backing and glue meet your specifications as well.
Traffic
Do you live in your home alone? Are you the home where the best parties take place? Different homes do better with different tile selections. Porcelain tile flooring is dense, less porous, and also less prone to moisture and stain absorption. If you have heavy foot traffic, this may be the ideal kitchen tile for you.
Upgrading your kitchen? Tile may be a perfect choice. Stop by and see all of your options today.