If you are like many homeowners, your home doesn't have the same flooring type in every room. You may transition from hardwoods in the living room to tile in the kitchen. Or carpeting in the bedroom to vinyl in the bathroom.
Having a home with multiple types of flooring is the norm; which means that having the right transition from room to room will either make or break the ambiance of your final décor. Without a little planning, and doing it just to get done will only create a floor that is destined for failure. Transitions will make your final look more appealing, and give you the longevity of each flooring option to its fullest value.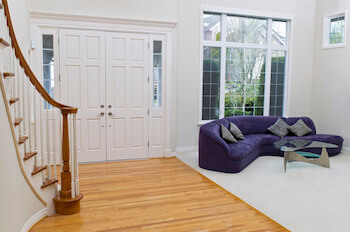 There are several issues when determining the best transition:
Elevation – the final elevation of each type of flooring needs to be taken into consideration to determine the best transition
Location of transition – will the transition take place in a door opening or in an open entryway?
Special transitions – stairways pose their own unique set of issues
Elevation
Elevation changes are fairly common in remodeling projects. Because a home is originally designed with one specific flooring in mind, and that flooring may have changed numerous times over the years, you may have flooring of different thickness. Some flooring requires different types of subflooring – large tile, for instance, takes a special underlayment to handle the weight and stability of larger tile. Therefore one flooring may wind up being higher than its counterpart, making a smooth transition necessary for movement between rooms. In this case, a transition molding may be the way to go to connect the two flooring choices together.
Location of transition
Transitions between flooring often depends on where the transition is occurring. If it occurs at a door opening, make sure you know the position of your door so you can install the transition of make sure only one flooring is visible when the door is closed between the two rooms.
Special transitions
Stairways need their own special moldings in order to create a finished look. Stairways often incorporate several looks into one: a hardwood main level, may transition into hardwood stairs with a painted siding, and transition into a carpeted upper level. The key is attention to detail. Lay everything out before final installation to make sure they transition from one position to another. A reputable flooring contractor can help you make the best decision not only for the type of flooring you are laying, but also keeping your taste and budget in mind.