When you plan on selling a house, you look at it a bit differently. You don't look at it through the eyes of living there, creating a family home. Instead, you look at return on investment.
The kitchen, the bathrooms, even the flooring choices change when you're flipping a house. Like any other business venture, if you have invested in a house with the sole intent to flip it for a profit, you have to make wise choices. It's a delicate balance between investing just enough money to create a home people desire, and not going overboard to spend all of your profit trying to fix mistakes you make along the way.
A turnkey property is a move-in ready home that doesn't require any work on the part of the buyer. They move in and start living. They don't have to think about ripping up the floors, painting the walls, or redesigning the kitchen.
And thanks to shows like HGTV's Fixer Upper, you might have a few ideas in mind. Statistics show that across the US, the average flip brings in just over $62,000. That alone is worth spending a little extra time and money creating the perfect showhome quality house that potential buyers love from the moment they walk through the front door.
Do a walk-thru, focus on big changes
When you have a house ready for flipping, your first goal is to walk through it and focus on where changes need to be made. This is when it pays to put on your "home buyer" glasses and see the house as a potential buyer.
What about curb appeal?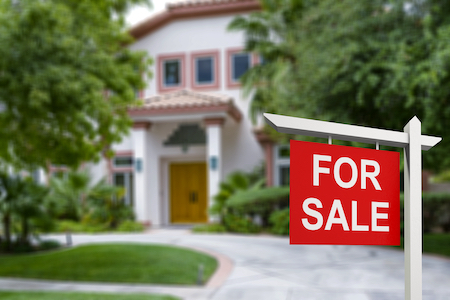 What is your first impression when you walk through the door?
Interior designers and home stagers will tell you potential buyers fixate on several things.
Light – they like to walk into a light, bright, and airy home that has a calming atmosphere.
Space – a cramped entryway filled with shoes, coats, and other accessories that gives a claustrophobic feeling.
Smell – is last night's dinner lingering? It can be a big turnoff for a potential buyer. They immediately start wondering if the smell will ever go away.
Damage – a cracked tile, threadbare carpets and rugs, scuffed hardwood – it's something potential buyers take in immediately.
Once you see where your biggest problems are, it's time to get started making the space better.
Flooring – a great place to start
When it comes to flipping a house, we make three general suggestions when selecting the right flooring:
Stay consistent with your flooring choice throughout the home
Select hard surfaces over soft
If carpet is something you're considering, stick with installing it in bedrooms and basements
Above all, home buyers want consistency. Seeing a mishmash of flooring options as they move from room to room will be an instant turnoff. If you select one flooring choice and run with it throughout the home, not only will you have consistency, but you'll also create a larger, more unified space. This means starting your flooring at the front entryway, carrying it through all living spaces (living room, family room, dining room) and into the kitchen. If possible, you can even carry this look up or down the stairs, and into bedrooms and playrooms. If you're worried about cost, in some cases, you can get a better deal on material the more square footage you buy. You'll have less labor costs, as the installer will be there once laying all of your flooring into place at one time.
Second, buyers at every end of the spectrum prefer hardwood over carpet. While the thought of installing hardwood may be hard to fit into your budget, keep in mind that it will improve the value of your home, which in turn ups the ROI you can expect after the sale. When asked what kind of flooring homeowners want in their "dream home", two-thirds stated it would have wood floors. As potential homeowners walk through the front door and look down at the floor, they are looking for a flooring that's durable, attractive, and easy to clean. Hardwood checks all of those boxes and more.
Still, we get that sometimes it just doesn't make sense to install hardwood throughout a home. You might want the WOW factor as you walk through the front door. But from there, you want to ensure you stick within your budget, and carpeting just makes sense to help you achieve your goals. If that's the case, by all means install a plush carpet. Focus on quality, aesthetics, and softness. Ensure you stick with the same carpet choice in every bedroom, staying with a neutral color that blends well with the flooring installed throughout the rest of the house.
If you're sold on hardwood floors but are still trying to save money
Flipping is a numbers game. We get it. But never lose sight that eventually, this will be someone's home. There are still ways to give potential homebuyers what they want, while saving money in the process. (And this doesn't include buying clearance hardwood planks at a big box store, where uniformity will never exist as you try and install it in the home.)
Instead, consider these tips when making your final selection:
Stick with a basic hardwood from a reputable resource. We have several hardwood manufacturers that have been in business for years, and make high quality planks perfect for your needs. Stick with basic colors, average plank width, and common styles and types. This isn't a time to select exotic hardwood, or look for colors out of the norm.
Work with the same reputable flooring dealer for every fix and flip you manage. As you get to know your sources, they can better understand your needs. When you work with us, for example, we can make better suggestions based on the type of houses you invest in. We can also let you know of potential sales, and give you a heads up on new technology. Our goal is to help you save where you can, while providing a resource that will look great in the houses you create.
Don't ignore new technology – the options available today that compete with traditional hardwood are amazing. Have you looked at luxury vinyl planks lately? Luxury vinyl planks are engineered to look just like real hardwood, and come with a soft, insulated backing that adds warmth and noise-reduction to the space. They look, feel, and sound more like real hardwood than laminate, and because of their ease, they can make any do-it-yourself project a user-friendly experience. Plus, they have an added bonus of being waterproof. That can be a big benefit to adding it in basements, bathrooms, even kitchens where moisture may be a problem.
So what's it going to be for your next house flipping project? What flooring will you install when you're flipping a house?