What will 2021 bring? It's a question a lot of us are asking daily.
If your thoughts have turned towards remodeling, you're not alone. According to one study on remodeling, spending increased for the third quarter of 2020 by 9 percent, with a prediction for continued growth in the coming year.
Why? There are many reasons for the sudden uptick in remodeling projects.
To improve functionality – after spending 24/7 in our homes for the last year, a lot of us have paid attention to the bad setups and wasted space. We need rooms that suit our needs. We need private office space that allows for Zoom calls and video conferencing. We need space for each kid to attend classes live each day. We need space to work, space to play, and a sense of functionality for every aspect of who we are as a family.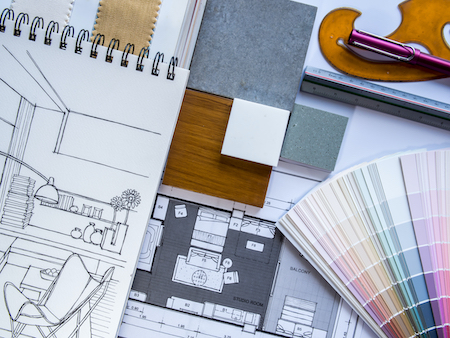 To increase modernity – while you might have lived with poorly designed spaces and old appliances before, their inefficiencies have now been called out. You're cooking from home more than ever before. The gym is now a room that sees daily activity. Why not have a sauna in your master bath? Why not make your dreams a reality?
To increase energy and water savings – you can't help but think about the money running down the drain, especially as each family member takes a little longer in the shower because they have the time. Upgrading poor performing appliances can instantly increase your savings on monthly utility bills. It can also open up space you never had before – a tankless water heater, for example, can be installed by the bathrooms and leave ample space for that wine cellar you've added to your wish list.
To boost your home's value – maybe you aren't planning a major move … yet. But you're weighing your options, and you know you're open to new opportunities. Why not upgrade the kitchen or bath now, and have your home in showroom quality before you list it for sale? According to a survey by Realtor Magazine, 80 percent of homebuyers placed the kitchen as one of the three most important spaces that will make or break a potential sale. Homeowners can recoup as much as 81 percent of the remodel cost, which should give you the motivation you need to dive into your home remodeling project now.
Now that you've made up your mind to start your remodeling project, it's time to start thinking of the basics. Your floors are the largest surface area inside your home. Floors set the foundation for the space, and balance your style and your needs carefully.
While you can repaint your walls if you hate the color fairly easily, your flooring choice is something you'll probably have to live with for years. How do you ensure your flooring choices for your remodeling project is something you'll love?
We've been tracking what homeowners want. People want flooring that's flexible, easy to live with, easy to maintain, and looks great now and for years to come. If you're looking for new flooring that meets all of those requirements and more, consider these flooring options for your remodeling project.
Luxury Vinyl Tile – LVT
Luxury vinyl tile has become one of the most popular products on the marketplace for good reason. It's waterproof, low maintenance, resilient to anything your family can dish out, and looks great too.
What is drawing people to installing LVT is its classic good looks. If hardwood has been on your radar for years, but you could never see yourself living with it, LVT may be your solution. LVT is designed to replicate the look of the most loved products on the market. Want hardwood planks without having to worry about warping from spills or water damage? Give luxury vinyl tile a look.
If you're looking to take on some of the remodeling projects yourself, there's another reason to look at LVT. It's perfect for the DIYer who wants to save a little money on installation costs. The click and lock systems provided by the top manufacturers make installation a snap.
The biggest draw to LVT flooring is its durability and ease of maintenance. LVT is waterproof – yes, waterproof. While nothing is going to withstand flooding, standing in several feet of water for hours – days – on end, LVT can withstand all the day-to-day living your family dishes out. If your child overfills the tub and doesn't tell you, you won't have to worry about the outcome. If you have daily messes in the kitchen, that's not a problem. Simply wipe it up and continue on with your day.
Hardwood
Maybe you're weighing your options for new flooring for your remodeling project, and hardwood stays at the top of your list. You've wanted hardwood for as long as you can remember, and nothing else will do.
Then install hardwood and be happy with your choice. It's still at the top of homeowners' wish lists. Its classic design makes it something you can live with for years. What's more, with today's technology and options, there's a hardwood that suits your needs.
Want traditional hardwood? A classic oak may suit your needs.
Want something more durable? Check out engineered hardwood, made from various layers to give you a more scratch-resistant, durable hardwood flooring option.
No matter what you have in mind, today's manufacturers can offer you just the style, color, and design you're looking for. You'll be pleased with your purchase and love the look as soon as you place it in your home.
Carpet
Are you still dreaming of a plush carpet you can dig your toes into? Do you love the warmth of carpeting in the bedrooms, and have visions of it installed in your new home office? Well you're in luck; it still tops the list of what homeowners are installing in their remodeling projects.
If you've had concerns about installing carpet, put your mind at ease. Manufacturers listen to what homeowners once, and they've delivered by producing a variety of lines that people love.
If going green is your thing, check out natural carpet. Wool carpet is plush, warm, comfortable, and offers natural qualities that can suit any homeowner looking for eco-friendly options.
Want stain resistance? You'll be amazed at what's on the market today. Your carpet will have natural stain fighters that pull the most common stains away from the fiber, making it easier to clean. That leaves your carpets looking nicer, longer.
What's your remodeling dream?
No matter what your dream home looks like, the best place to start is at the bottom. New flooring for your remodeling project will set the stage for any design you're looking for.