If you're looking for a convenient approach to DIY flooring, you've probably stumbled upon floating floors.
In general, a floating floor is any material – wood, laminate, or ceramic – that is not attached to the subfloor. Individual pieces are attached laterally to themselves.
This doesn't mean the floor is structurally unstable. Floating floors are installed in millions of home and work perfectly well.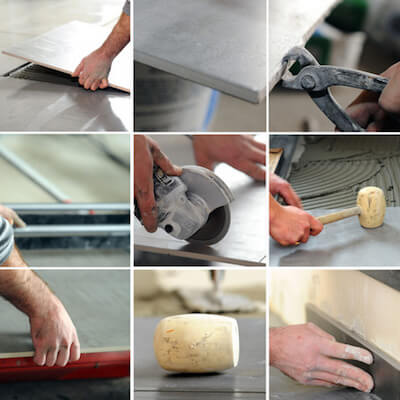 Floating floors usually use a "click and lock" system that allow you to connect the pieces by the sides. You link them one after another and slide them into place. They work well for wood and laminate products; not so well for ceramic and porcelain tile.
There are new products that are entering the market that offer the ease of snap and click with the beauty of tile. The benefits include:
Zero mortaring
No spacing problems
No waiting for mortar to dry
An easy base to install and rest the tile on
The biggest disadvantage is the ease of cracking. Mortar provides a solid base for the tile. Without that, hollow spaces can exist and allow the tile to crack easier. It also doesn't take away some of the installation processes.
You still need to grout the tile
It cracks easier, especially when it involves heavy objects such as refrigerators
Limited colors and styles
It all comes down to knowing your space.
Tile has the possibility of lasting for years, decades in some circumstances. If you install it properly, it can offer timeless beauty for years to come.
Tile pros have no problems handling mortar; it's something they do every day. They know how to regulate the flow across the room, how to properly space the tiles, and how to complete the finishing work for a strong flooring choice.
What questions do you have about adding tiles to your home?