Yoga and fitness studios have special needs.
When clientele enter, they don't simply walk through the door. The quickly head down to the floor, stretching, twisting and turning over and over again as they form their next pose.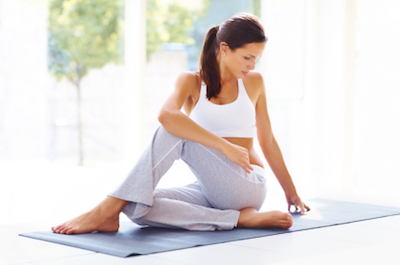 You want your clients to be happy and comfortable from beginning to end. A happy customer is one who enjoys the experience and can't wait to come back again.
And while flooring matters to all businesses – an attractive floor is good for business – it's even more important to a yoga or fitness studio. Should you go with more traditional choices like carpeting? Or try something new, like rubber flooring?
Why not try cork flooring? Cork flooring offers utility and comfort, and does so while looking great in the process.
Cork flooring is naturally impact resistant. It bounces when you press down on it, and is designed to reduce heavy impact on the joints.
Cork flooring's cushion and warmth adds to the flow, making it feel warmer in the winter, yet retain its coolness in the summer.
And if you'll be mixing it up a bit with a more vigorous workout – Zumba anyone – cork's natural sound absorption excels at holding sound in its place, to allow other, more serene classes to take place down the hall.
Cork is also one of the best materials to choose as a work out floor because of its ease at being maintained. It has a natural anti-microbial property that makes it perfect when exposed to skin and sweat. It can even help prevent viruses and bacteria buildup due to its waxy suberin surface material.
When you're trying to make a good first impression in your studio, look no further than cork flooring to get the job done right the first time. It's a healthy product for a healthy lifestyle, the perfect compliment to your business.