With the change of seasons comes a whole new round of potential aggravators for allergy sufferers. Trees, plants, furry friends, all can trigger allergy symptoms and leave you feeling like you're not quite yourself.
But there is a way to combat the effects of allergies by incorporating the right type of flooring into your home.
These days, our homes are filled with toxic chemicals that can cause a variety of ailments. According to the American Academy of Allergy Asthma and Immunology, more than half of the population suffers from some form of allergies. And most of these come from inside the home.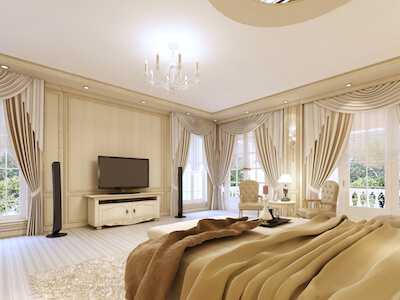 By carefully considering what flooring choice you introduce into your home, you may be able to eliminate one major source of problems, and allow your family to breathe a little easier.
Common allergens around the home include:
Dust mites – dust mites are microscopic insect too small to be seen by the naked eye. But they are unavoidable and are everywhere.
Pet hair – our favorite fluffy friends shed animal dander and contribute to allergies by salivating, urinating, defecating, and bringing in biological playthings in from outdoors.
Mold – anywhere there is moisture you risk having mold. It can grow easily in damp places including kitchens, bathrooms, and basements.
The best flooring choices to combat these issues are:
Cork – cork flooring is an excellent choice on many levels. It is antimicrobial due to suberin, a naturally occurring substance that reduces the growth of mold, mildew, bacteria, and other allergens. It's a surface that is easy to clean and easy to maintain.
Hardwood – hardwood continues to be one of the most beautiful and durable flooring choices around. The hard surface leaves no room for dust mites to hide, and is easy to clean and maintain.
Bamboo – bamboo offers all the surface properties of hardwood and is water resistant and less likely to retain moisture than traditional hardwood. It's important to check the manufacturing to ensure the bamboo is low VOC before you purchase and install.
Stone – not all stone if allergy friendly, but as a rule, smooth stone will be much less likely to harbor allergens because it isn't as porous. Select a marble or granite for a clean surface area that is durable and easy to maintain.
Tile – tile is one of the best choices because it's easy to care for and dust is easy to spot and clean up. Be sure to install with VOC-free adhesives.
Vinyl – much like cork flooring, high-end vinyl offers all the benefits of a hard surface. It's easy to clean and easy to care for, with no pockets to collect moisture, mold, or mites. With vinyl, you do get what you pay for. Ensure your vinyl is manufactured with low VOCs, which can increase your allergen risk.