Denver has seen its fair share of growth in the past few years. And who can blame them? Denver has a lot to offer.
But whether you're moving in from the coast or the midwest, you may find we do things a bit different here.
You would never expect to find a beach house right here in the heart of the city? And no matter how much you enjoy the beach, that look and feel might not be the perfect choice for our long winters. Sure, we have one of the highest levels of days of sunshine in the States. But hardwoods and stone may be more our style.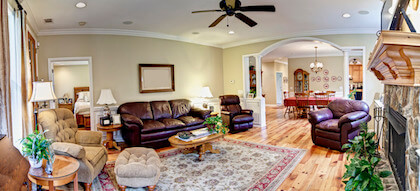 Living here in Denver means the weather can change quickly. Other cities might say it, but here, it's a reality. Can it hit 80 degrees in the afternoon, and dip down into the 20s late in the evening? Yep. Just stick around. No telling what will blow into town.
All of that means you have to be prepared for just about anything.
Sun beating into your home and impacting your flooring many hours of the day? Yep.
Feet of snow being dragged into puddle on your floors? That too.
What should you choose?
Hardwood
We love our hardwood. But here in Denver, it needs a little TLC. Natural flooring is affected by extremes of moisture and dryness, and we can have both here in short order. Try to keep your indoor relative humidity between 35 and 60 percent. Be aware of where your hardwoods are installed. Instead of hardwoods in the mudroom, think stone or vinyl instead. That'll be one less thing to worry about when the kids or pets come in from outside.
Vinyl
Vinyl is a practical choice for floors in just about any climate. You can find luxury vinyl that in many cases mirror more sophisticated flooring choices. You can install it over concrete slabs or over a crawl space. Be sure to use a vapor barrier to protect against moisture.
Ceramic or Stone
Ceramic or stone tile is great for any floor in your home. A moisture barrier or underlayment beneath the tile will properly seal and safeguard it for long enjoyment. Tile does tend to be cool underfoot, which is why many homeowners add radiant heating to keep your rooms warm in the winter. You'll love the effect, especially in bathrooms.
What flooring do you prefer in your Colorado home?