First impressions are everything. Which is why the entryway to your home is a crucial space to finish properly.
If the outside sets the curb appeal of your home, your entryway sets the personality of the interior. Have you ever entered a home where it's a mishmash of color and design?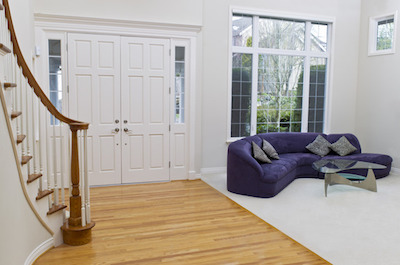 Ideally, the flooring you choose for the entryway should be a reflection of the styles you utilize throughout your home. This space is the common thread that helps tie all the rooms together. It helps create a seamless and cohesive home design.
Another thing to consider is the practicality of this space. Flooring should be both durable and easy to maintain, as guests and family will enter the home through this area, tracking in dirt, debris, water, snow and other high maintenance items throughout the day. This is the area that will sustain the most foot traffic. Make sure it's easily repaired.
Also, consider your tastes and how often you like to change your home's décor. Some flooring can last for decades, with the right amount of maintenance and care. If you like to change and have the desire to redo your home every few years, choosing an entryway flooring material that's easy to remove can be of benefit. However, if you choose to use flooring as your base, there are many popular flooring choices that can do so in a beautiful way.
Slate
The dark, rich color that slate offers is a traditional and popular choice. Slate adds boldness to a space that can clearly define your personality and offer contemporary feel.
Porcelain
If you love the look of slate but want something a little more budget friendly, consider using a dark porcelain tile instead. Porcelain tiles are durable options that come in a wide variety of colors. Not to mention its smoothness makes it easier to clean than the jagged textures of slate.
Laminate
Love the look of wood but worried about it holding up with constant water and snow? Try laminate instead. Laminate can create a wood look to match the rest of your home, while giving you flexibility and durability that real wood can't.
Vinyl
Vinyl flooring is still one of the most versatile flooring choices in high traffic areas where dirt and moisture are prevalent. And with today's luxury vinyl offerings, you can create any look you desire.
Of course, any flooring you choose can be enhanced with the use of a throw rug or a decorative doormat. They will personalize your space as well as add another layer of protection to separating the outside elements from impacting your indoor environment.
What does the flooring in your entryway say about you?