Was 2020 the year you hoped to remodel, change your floors, update your fixtures, and give your home a fresh new look?
Is it still in the plans, albeit pushed back a bit?
Use this time to get clearer on what you truly want for your remodel. You can do that by asking these seven questions to help you hone in on what's really important to you.
What rooms do I really want to renovate?
We all like to dream about the ways we'd like to change our homes. Upgrade the kitchen. Make the family room more open and airy. Or maybe change out the master bathroom to a spa-like experience.
Instead of dreaming about it, start focusing in on the renovation from the ground up. What rooms will you tackle first?
Every homeowner is unique in their approach to home renovation. For one, they might realize it all starts with the flooring because the carpeting is in such bad shape. If they have to replace it anyway, why not upgrade it more to work towards creating the house of their dreams?
If you've always had carpet in the family room, and are considering moving to hardwood, for example, it might be more time consuming then ripping up the carpet and laying planks in place. When you're in the process of changing your floors, you might discover that the subfloor currently in place isn't well suited for your new flooring material. Renovation will be more detailed because it will require more work to install something new.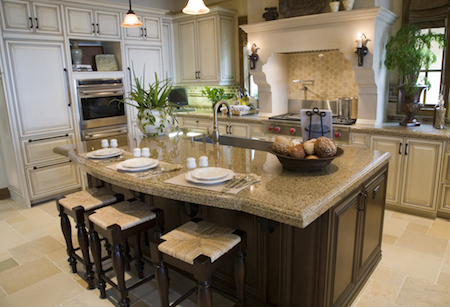 Location of the room is equally important. Maybe you want to create a succinct living space, with hardwood throughout the main floor. If the hardwood currently in your kitchen is no longer available, you'll have choices to make. Do you want to sand your current flooring down and stain it throughout to match? Are you ready to install transitions between rooms to create a beautiful look?
Look through your favorite decorating sites, and start building a pinboard on Pinterest to keep track of your preferences in one place.
What is my budget?
What is a realistic budget you've set aside for your remodeling plans? If you've only based your budget on estimates you've noticed online, or in ads you see for your local big box store, you might be surprised at the final price tag.
Big box stores like to share low prices for products. Yes, they're offering a low price on hardwood planks, for instance. But they don't share with you all the other costs that go into installation. Like ripping up your existing floor. Or making it ready for a new one. Or labor costs.
Now let's add that into a complete remodel. If you're redoing your kitchen, every step you take might reveal problems you didn't anticipate. Have you watched the shows on the home and garden network? How many times are the homeowners "surprised" as a problem surfaces, adding 5 to 10 percent to the final budget?
Think realistically. Then add 5 to 10 percent for the just in case. If all goes well, you'll feel even better by "saving money" too.
Who uses the room? What for?
Are you remodeling a kitchen that will be used several hours each day? Or are you adding in a guest bedroom that will only be used several times per year?
Different rooms. Different needs.
Base your final decisions on what floor makes most sense to stand up to the kind of wear you anticipate. And ensure you consider how much upkeep it will need throughout the years as well.
Do any of your family members have health challenges?
For some families, the best decision you can make is to change your floors to make your home a cleaner place. If anyone in your family has allergies or asthma, cleanliness is everything.
Many select hardwood or tile because they are easier flooring choices to keep clean. Running a swiffer over it daily is much easier than lugging out the vacuum. But other choices might make even more sense.
What about cork? Cork is naturally hypoallergenic. They use natural materials for production, and won't collect things like pollen, mildew, or other pollutants and contaminants that can trigger allergic reactions. In addition, cork flooring releases no VOCs, which makes it the right choice for many families.
What are your personal preferences? 
No matter what flooring choice looks good on paper, some homeowners have their minds set on a specific flooring product, and nothing else will do. Does this sound like you?
Our suggestion to you is to stick with your personal preferences. And then come in with an open mind.
Let's say you want hardwood; you've wanted it for years, and your remodeling plans are based around installing hardwood. If you come in with an open mind, we can help you make the best choice based on your situation.
Hardwood is ever-popular. That's why many other flooring choices have gone to great lengths to mimic its classic good looks. What if you could install luxury vinyl tile in the laundry room that is so close to the real thing, you have to get down on your hands and knees to tell it isn't "real"? Or maybe you want to carry the look of hardwood throughout your home, but tile makes more sense in the master bath. Thanks to today's technology, you can get tile that looks like wood planks too. And it'll handle better in a high moisture, high humidity situation.
What look are you trying to create?
Design is everything. We get that. That's why you're contemplating a remodel in the first place.
You have a specific goal in mind. You "see" your final look long before you start putting everything together.
Go with your gut feeling. If you've always wanted a certain product, then don't let others sway your final decision. Stick with it. Ask questions to ensure you're getting the best in the product line. And love your results.
What maintenance level are you comfortable with?
Are you more of a sweep-and-go kind of person? Or do you take great joy in spending a little time in the cleaning process, and making it look great at all costs?
Different flooring options will take different levels of maintenance. It's important to be prepared for whatever that means before the installation begins.
Also, check in with our flooring associates for recommendations for the best products to use. If you use many of the cleaning products you'll find on the shelves of the local big box store, for example, you might void the warranty right from the very first cleaning.
Are you thinking of changing your floor this year?
Do your research. Then give us a call. Whether you stop by and see our full selection, or would like us to meet you and go over options where you are, we're happy to help you select the perfect flooring choice for your home.