Think subway tile only comes in ceramic? Think again. Because of its increasing popularity, subway tile comes in all kinds of materials, colors, shapes, and sizes. And because of it, you can create any design you've been dreaming of.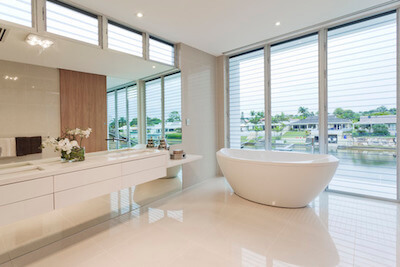 Subway tile gets its name from being the decor choice on subway platforms. These ceramic tiles were durable, easy to care for, and easy to replace. And while they are fairly standard in color and size, as people started bringing them into their homes, the changes became more significant.
Like glass. Traditional subway tiles are standard 3×6 in size. But they've grown (and shrunk) from there to provide a wonderful range of textures and looks. You'll find clear glass, texture to give the impression of a linen design, or muted color to blend into the surroundings. Glass brings a bit of shine and shimmer to any location you choose to install. We love how you can use it sparingly to add punch to a room, or install it from floor to ceiling for a clean look and feel.
Subway tiles can also be created from travertine. Travertine has been around for centuries and looks great wherever it's installed. So why not mix it up with a subway theme? And while many people choose to stick with a theme and install a solid wall of travertine, we also like mixing it with other tiles – like glass. Sticking with a color theme and hue will ensure they work well together, giving you a look you'll love for years.
If durability and elegance are high on your wish list, look no further than marble subway tiles. These elegant tiles are generally polished, and look great in showers, tubs, or backsplashes. You can also use them to build intricate mosaic or designs. Your imagination can run wild when implementing this high quality look to any room in your home.
Want something more cutting edge for your urban home? Why not bricks? Bricks have low maintenance and can give you a traditional appeal that perfectly matches your urban decor. Not only can you use these on the floor, but they can run up the wall and become your main feature.
What subway tile will you choose?