What's the difference between regular vinyl and luxury vinyl? That's a question on many homeowners' minds as they navigate replacing flooring inside their homes.
You may remember vinyl flooring from your mother's or grandmother's  homes. The distinct patterns and soft, squishy feel may have been popular back then, but it's not something you'd consider for your own home today.
Or should you?
Today's vinyl is nothing like what you remember.
Let's start with vinyl flooring.
What is vinyl flooring?
For years, vinyl has been considered one of the best choices for high moisture and humidity areas. That's why you'll find vinyl in places like bathrooms and laundry rooms. If a spill occurs there, you'll simply mop it up. No need to worry about it seeping through the flooring material.
Today's standard vinyl comes in sheets or tiles. Standard sheets come in 6', 12', or 13'6", depending on the manufacturer.
It's made up of several layers:
A top coat that protects the wear layer
The wear layer that safeguards the pattern layer
The pattern layer which gives it its color and pattern
The cushion layer that adds bounce and texture
A fiberglass layer that keeps the sheet flat
A base layer that supports all other layers
The wear layer determines its strength and longevity. It typically is between 10 to 15 mil, which equates to 10/1000 to 15/1000 of an inch.
What is luxury vinyl?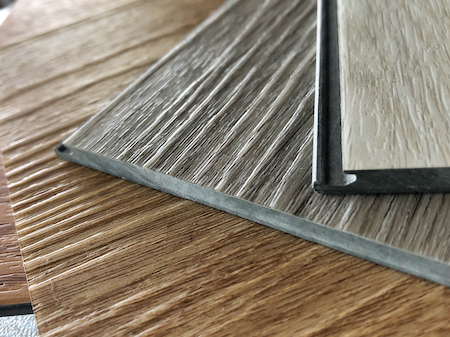 Vinyl flooring was first introduced in the 1930s. A happy accident discovered while trying to make tires more affordable and resilient, vinyl became one of the floorings of choice as soldiers returned home from war, married, and bought their first homes.
As time went by, improvements were made to the vinyl market. Vinyl offered a way to create scratch-resistant, slip-resistant, even waterproof flooring choices.
Luxury vinyl looks nothing like sheet or tile developed almost a century ago. It uses the same PVC vinyl as standard vinyl, but that's where the similarities end. Luxury vinyl takes on the looks of planks or tiles, and provides an affordable way of bringing the most popular flooring products into your home. Whether you want hardwood or marble, luxury vinyl may be the perfect way to achieve results.
Luxury vinyl is sold as multi-ply planks or tiles with wear layers that range from 2 to 8 mm. This is roughly 8/100 to 3/10 of an inch, quite a bit thicker than traditional vinyl. Instead of feeling flexible and bendable, you'll notice luxury vinyl planks and tiles have a semi-rigid nature.
Luxury vinyl also contains six to eight layers of material.
A top coat to add shine
A transparent wear layer to protect the design
A design layer printed to mimic hardwood or tile
A cushion layer for comfort
A felt or fiberglass layer
A solid PVC layer for strength and durability
Additional layers can include mineral content to ensure its classic good looks and durability
What should you choose, traditional vinyl or luxury vinyl?
If you shop for vinyl, you'll find both products still on the market. That's because they both can add a lot and be quite functional in your home.
If you're looking for a seamless floor, look no further than sheet vinyl. It's available in many modern-day patterns that can range from minimalistic to contemporary and beyond. You'll find many colors and patterns, some of which mimic hardwood or ceramic tile. It's a great way to give your house classic good looks while increasing functionality at the same time.
Installing sheet vinyl is a job best left to the professionals. The subfloor must be perfectly flat to ensure proper installation. If you place it over an uneven subfloor, it could cause bubbles or ripples in the texture of the vinyl. If you make a mistake and cut it too short, you have to start all over again with a new piece of vinyl. It's not a complex process, but the more experienced you are, the better your chances of a successful installation.
With sheet vinyl, your biggest potential problem is in its strength. If you move heavy appliances across it, you risk scratching or ripping the surface. Large pets can also cause extensive damage with their nails. And if you drop heavy items on it, you risk gouging the fabric.
Luxury vinyl is growing in popularity because it takes the best of what people like about vinyl, and combines it with the most popular looks in the marketplace. If you want hardwood, luxury vinyl planks may be just what you're looking for. Typical planks run 4" by 48" up to 9" by 72", with many sizes in between. It's also popular as tiles, with sizes ranging from 16" by 16" to 18" by 36".
Some of these products are so convincing, even an expert has to get closer to tell it's not real. And because it offers a waterproof alternative to hardwood, it works well in places you might not consider installing hardwood – like bathrooms and laundry rooms.
You may love luxury vinyl planks so much, you install it in every room in your home!
And installation is one of the easiest projects you'll find. Luxury vinyl planks and tiles are generally installed with a locking method that connects the pieces together and floats them into place. It's so easy, many choose they as a do-it-yourself project if you're looking for other ways to save money.
Yet unlike laminate, which often has a hollow sound, luxury vinyl has enough stability in the core to illuminate that issue. That's another plus if you're attempting to give your home classic good looks, and still stick to a budget.
Standard vinyl or luxury vinyl – which is right for you?
The good thing about having both standard vinyl and luxury vinyl in the flooring market is that you'll have many choices available as you're finalizing your decision.
Homeowners have their own unique wants and desires. They prefer different looks and styles.
The first step is defining what suits your lifestyle best. The second is to analyze and compare your options.
Both standard vinyl and luxury vinyl can be a great choice throughout your home.
Which is right for you? Let us help you finalize your selection. Stop by today and see our complete lines.