What are the two biggest projects people take on when renovating rooms in their homes? Painting and flooring.
It makes sense. Those are two of the most powerful projects you can take on that will impact your home's decor in significant ways.
In their own right, both are messy projects, especially if you're making big changes.
Are you pulling down wallpaper?
Changing the texturing on your ceiling?
Adding new molding or wainscoting?
Moving from carpet to hardwood?
Have damage to your subfloor?
And what about all the problems you can't see? You only have to watch a handful of the renovation shows on HGTV to know problems may be lurking right under the surface.
With all of that in mind, which project should you tackle first? Should you hire a painter to paint the walls, and bring in a contractor for the flooring second? Or should you have your flooring installed first, and finish the project with a new coat of paint?
Here's our advice
Evaluate your projects
We're assuming you're having both of your projects handled by professionals. Neither your painting nor your flooring projects will be do-it-yourself.
Before you hire either, and set the schedule for the process, evaluate how much work needs to be done.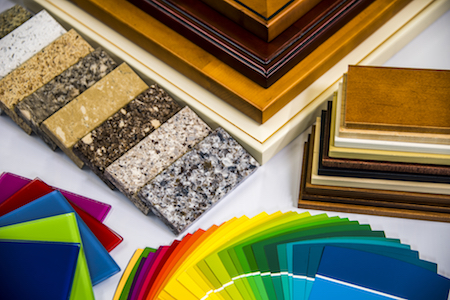 For the painting project, it's a good idea to talk with your contractor to determine the work involved:
If you're painting the ceilings, the workers will need ladders, and move them all over the room.
If you're changing the texture, they may be scraping or spraying, getting fine dust throughout the room.
If you're removing wallpaper or adding new, you may have glue and adhesive involved.
If you're adding new molding, workers may have sanding and fine detailed work to do.
Flooring has its own share of to-do's:
If you're moving from one type of flooring to another, there will be prep work to the subfloor.
Depending on the flooring, the baseboards may need to be removed and changed accordingly.
New flooring can also change the height of the floor. Are the baseboards in the right location?
Unfinished hardwood requires a lot of prep work before they are finished, including sanding and staining. How will that impact the walls?
Best case scenario, if at all possible, we usually suggest prep work be done to the walls before the flooring is installed. The final paint job can be completed as the finishing touch after the flooring is in place.
However, this is a personalized process. If you're working with a contractor, trust their advice. They will usually do what's best to get you the results you demand.
Want even more information to make the right choice? Let's look at the pros and cons of each.
Renovating floors before painting
Pros
Paint is one of the easiest ways to renovate your home. Painting it a different color can add elegance, give a room a dramatic feel, or freshen things up and make it appear lighter, airier. What's more, if you get the color wrong, you simply select a different color and repaint. You can't do that with your flooring. If you install new hardwood, it's difficult to replace it right away with a different color choice. You might have to live with it for years. And once the color of the floor has been determined, it's easier for a professional to ensure your paint has the same hue, and won't clash as a final result.
If you've ever been a part of a hardwood renovation, you know how messy it can be. As the floor sander glides from corner to corner, it's not unheard of for damage to be done to the walls. Chips and knicks are frustrating enough when your wall needs painting; it's all the more so when the wall has just been painted.
Cons
The biggest reason not to refinish your floors before you paint is it's easy to drip paint on a newly refinished floor. While you can use drop cloths to cover everything up, there's always a chance the folds of the fabric can move and allow drops through and onto the floor. That would require work to remove the paint, possibly removing the varnish or top coat, and require time and money to fix the problem and bring your flooring back up to good condition.
Painting walls before renovating flooring
Pros
This is where it pays to plan ahead. If you have hardwood in place, and are sanding and re-staining, painting first can allow light paint splatter to be easily removed during the sanding process. This changes, however, depending on what flooring you'll be installing. Paint splatters on new carpet fibers can be disastrous. Paint drips on porous tiles can soak in and change color. If you try and remove dried paint from vinyl, you might scrape the surface or remove the finish.
Depending on how high your ceilings are will determine what tools are needed for the job. Do you need ladders? Fans? Compressors? While a bucket of paint and a roller and paintbrush won't cause a lot of damage if set down or dropped, larger equipment can cause more damage to your new floors.
Study your approach from all angles before settling in on the best method for you.
Cons
Paint spilled on some surfaces is harder to remove than others. Even if you are planning on re-staining your hardwood flooring after the fact, a deep color might penetrate the wood and be noticeable after you stain it.
Some flooring has a more difficult installation process, like unfinished hardwood. Dust from the sanding process can get all over a new paint job, even stick in some cases. And if you have a problem with installation, it might change the way our baseboards have been installed.
Which is best for you?
The final decision is based on your unique situation. If you're using a contractor for both painting and flooring installation, trust their advice. Flooring almost always is more difficult for repairing and installation. If you drop paint on a newly stained floor, for example, it's a mistake you might have to live with for the life of the floor. You might be able to sand out the paint, but if it stains, you'll always see the spot every time you pass.
Take extra precautions, no matter which method you choose. It may seem difficult at the time, but it will more than make up for it in the long run.
Make your flooring renovation a fun project, one you're proud of for years to come.