If you've decided now is the time to upgrade your bathroom, you can't help but notice all of the things you can do with tile. Tile isn't just for the floors anymore. In fact, tile is the perfect material to use throughout your bath. It's perfect to use for the floors, for the walls in your shower, even for the backsplash by your vanity. 
What tiles are the best to use in each situation? What are today's trends, and how well will they stand the test of time?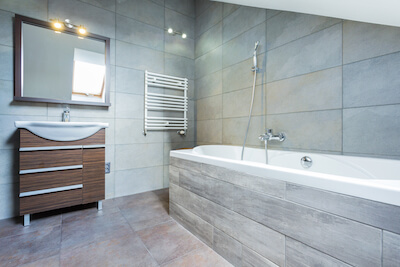 Think Large
Because tile has grown in popularity, you'll find today's choices are greater than ever. Instead of using traditional tile sizes, think big instead. And when we're talking big, we mean 18×18, 24×24, or even larger for floors, and 8×24 or 10×30 for walls. These larger sizes can make your space appear bigger. And by using larger tiles, you'll have fewer grout lines to worry about down the road. 
Concrete 
The latest rage is concrete – it's poured as a floor, even used on countertops. Why not try concrete tile too? In a bathroom, it can give you a warm and contemporary look and feel. And the tone allows you to mix and match any earthy color combination you choose. 
Subway 
Subway tiles will never go out of style. Depending on how you use them, they can give your space a retro flair or push the edge of contemporary. While traditional white might be perfect for your home, it's by no means your only choice. Subway tiles also look wonderful in traditional brick tones or mixed with your concrete tiles.
Wood Tiles
Yep, it's hard not to get into the newest look for tiles: wood plank. So many homeowners have tried to put hardwood in the bathroom, only to be quickly disappointed. Now you can, thanks to wood tiles. They have a distinct look that are inspired to carry on your wood theme into the most difficult rooms in your home. Whether you like traditional hardwood, prefer an updated whitewash, or settle on reclaimed wood-look, you're going to like wood tiles. 
Don't Forget The Details
When you're installing tiles in the bathroom, details count. Luckily there are unlimited possibilities when putting together the final touches to your bathroom decor. In the shower, you can mix and match tile to cover the floor, the walls, drains, storage areas for bottles and soap, benches, even create eye-appealing trim running around your fixtures. You can make tile stand out or let them blend in. 
Your idea potential is unlimited. And you're going to love the results. Just be sure you select an installer who is experienced in working with tile. Bathrooms experience high levels of humidity and moisture. For that reason, make sure the job is done the right way the first time.