How many shades of white are there? You've probably been amazed if you ever stepped up to a paint chip display in your local big box. Like paints, carpeting also comes in a variety of colors, depths, and styles. And nothing says summer like a light carpet, one you can pair just about anything with and have it lighten and brighten your decor.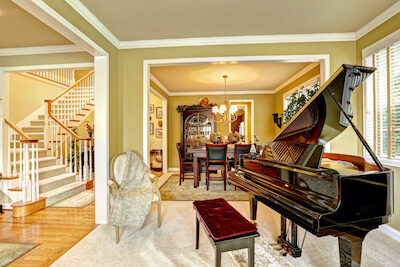 But light colored carpet doesn't have to be tan or white. While shades of cream are always popular choices, there are many options for you to consider adding to your home. Shades of peach or pink can be a welcome addition to a daughter's room or even the master bedroom. Shades of green can be a neutral choice that pops a little bit of color into the space.
Light blues have been a popular choice for decades. It's an excellent choice for any room where you want to set a masculine tone, yet don't want to overpower the room and darken it up. It's also a good choice to work with more traditional decor.
Don't forget the light shades of tan and brown. They always top the list. They are popular because they can blend in with just about any decor beautifully, and they won't show most stains.
By adding just a touch of color to the carpet, it can make it more prone to hiding stains and marks. But because it's still light, it can impact small rooms in a big way, giving it a larger more open feel.
While light carpets look great in any room in your home, it's important to remember they do take a little bit of extra work to keep them looking their best.
Consider using doormats at all entrances to catch dirt and prevent it from being tracked onto your carpet. This simple step can keep your carpets cleaner and prolong their life. Taking off your shoes and leaving them at the door can also help keep your carpets looking their best.
Vacuum your carpets at least once a week to prevent dirt from settling in. If you have an active family, consider vacuuming on a more frequent basis.