3. 2. 1. Happy New Year! With 2023 almost here, you may already be planning out the first few months of the year.
Will you take a trip to escape the cold? Or maybe it's time to renovate your home, add something you've been dreaming of for a while.
For many homeowners, remodeling dreams often focus on flooring. It's one of the most noticeable materials when you first walk into any room. But selecting new flooring can be difficult at best.
Do you stick with the tried and true? Do you replace it with more of the same? Or do you stretch and try something new?
Remodelers often state their top question is: Is this flooring too trendy? And we get it; flooring can last for years. You don't want to tire of it a short time after you install it. You don't want it to feel dated almost from the moment you select it.
How do you select from the latest flooring trends, yet make sure you love it way beyond 2023?
What to know about trends
Every year Pantone puts out their color of the year. You'll find this color choice influences everything from home materials to fashion. This year's Viva Magenta makes a statement. How can you resist its bright, vivid color?
But would you really want it on your floors?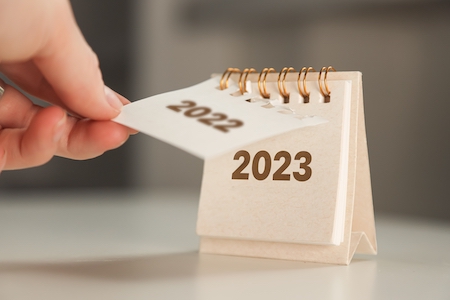 Of course not. Designers state it "vibrates with vim and vigor." While it may be the perfect accent for pillows on your sofa or a scarf around your neck, most would grow tired of it quickly if it stretched across your floors throughout your home.
The word "trend" is defined as the general movement or flow of an event or phenomenon over time. It's about noticing what's popular in our society and using it to blend in with the world around you.
Flooring manufacturers know this. But they still morph and change over time depending on what people want. We've seen that recently as we've moved through a pandemic. Homeowners now want easy-to-clean flooring that is sustainable and eco-friendly too. They look just as much at source as they do looks.
Popular flooring trends for 2023
When you select flooring material, you're creating a lifestyle. It's important to think about:
How you want the space to look and function
What type of furniture and lighting you'll use
Your choice of textiles for a cohesive look
Of course, your budget plays a part in it too. But no matter what your goals and desires are, there are options for you. For 2023, the top flooring trends include:
Vinyl flooring
While vinyl flooring has been around for decades, the latest technological advances have created explosive growth in the flooring industry. If you haven't looked at luxury vinyl flooring, it's time to give it a look.
Luxury vinyl planks, LVP for short, take the best of solid hardwood and combine it with other benefits people are looking for:
Easy to clean
Easy to maintain
Waterproof
Durability
Functionality – it can go where solid hardwood can't, like basements
Parquet flooring
When you think of parquet, you might think old-world with a European flair. That's part of what is making parquet flooring grow in popularity. These beautiful modern herringbone and chevron patterns bring class and style to today's homes. And homeowners are loving the way it looks.
Yet even though they may be reminiscent of times past, they bring a modern edge by using wider planks. You'll find these larger boards create new life in an area you might have been a bit bored with before.
Homeowners aren't stopping with tradition – they are mixing a variety of ideas together. How about a double herringbone pattern? Or mixing more than one color? Let your imagination run wild by thumbing through design magazines and pinboard the styles you love.
Hardwood … with a twist
You can never go wrong with hardwood. It's one flooring that will remain popular. But if you're tired of the standard oak look, you'll love what 2023 brings to the table.
Rustic is on trend. Think large, massive planks. Think antiqued or hand-scraped looks. If reclaimed wood is your thing, you'll be right on style. With so many materials abandoned by our modern-world approach to remodels, homeowners want to return to yesteryear, and reuse whenever they can.
Or course, you can combine that with modern day conveniences. Why scrape, wax, and create a heavy maintenance routine when there are products available that give you the best of both worlds? You'll love the look.
Tiles
Tile floors will never go out of style. While you might have them in your bathrooms and laundry room, it's time to move them far beyond these small rooms. Stylish tiles make good additions to hallways, kitchens, and beyond. With an almost unlimited variety of colors and patterns, if you want a unique look, you can create it.
What's more, many are combining tile floors with radiant heat to create a warmer, more eco-friendly way to stay warm throughout the winter.
Homeowners are finding wood-effect tiles are the perfect addition to where it doesn't make sense for traditional hardwood. It's a way of creating class and elegance all throughout your home.
Carpet
With so many different styles available to choose from, we have to mention one other material that never loses its potential. If you love the look and feel of carpet underfoot, it's time to give it another look.
Trending this year are bold, beautiful colors that give you an updated look. Rich shades, geometric patterns, floral prints – you'll find it all available and waiting for you. But don't worry if bold isn't your choice; natural and organic tones are ever-popular.
There are many ways to achieve the look you desire. Wall-to-wall carpet is always a good option. But more are turning to carpet squares, especially in playrooms, media spaces, or even wine cellars. It gives you more options to mix and match, plus an easy way of replacing sections if accidents happen.
What's your style?
One look at the flooring trends of 2023 will tell you that if you can dream it, you can achieve it. There's something for everyone when you're ready to replace your flooring. The only question now is:
What are you waiting for?