Hardwood floors are the flooring of choice in many homes throughout the Denver Metro region. Yet as much as we love hardwood in our living space, carpeting remains a top choice for the bedrooms to provide warmth and comfort.
What's the best way to connect the two? Should you carpet your stairs … or use hardwood instead?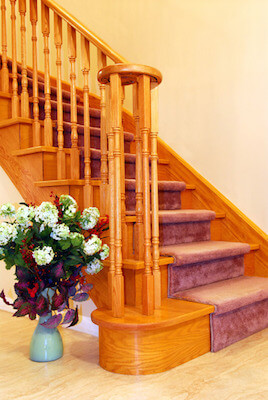 There are many pros and cons to both decisions; there is a different answer for everyone.
Carpeted vs Wooden Stairs
Stairway safety: carpet is safer for children and the elderly
Wood stairs can be slippery and dangerous especially when liquid is present. Likewise, hardwood stairs make for hard landings if someone does slip, and can cause more accidents and injuries than carpeting. In homes with elderly or small children, carpeting may be a safer choice to avoid slipping and falls.
Cleaning wood vs cleaning carpet
Carpeting on stairs is automatically going to accumulate more dust and dirt than hardwood. Carpeted stairs require regular vacuuming and an occasional cleaning to keep them in top shape. Hardwood stairs are easy to clean and maintain with a broom and a mop.
Noise: wood is louder than carpet
Carpets insulate against noise. Hardwoods tend to produce more noise, especially if a person moves around your house with shoes on their feet. You will hear the difference between the two especially on the stairs. If you have a family that moves around the house at different times of the day, or kids that run around and play on different levels, carpeting may be a better choice to muffle the sounds.
Damage: carpet is good if it's permanent
Installing carpet on your stairs requires the use of wires, industrial staples, or adhesive glue that can cause permanent damage. If you decide to remove carpet in the future and move back to wood stairs, it may require refinishing each step to remove the damage.
Flooring cost: wood costs more upfront, capret needs replacing periodically
Quality carpet can be expensive depending on your final selection. Installations also take time. If you replace carpeting regularly, it can add up to a larger overall cost that leaving your stairway with wood.
Ultimately the choice should come down to the way you live and the look you prefer. The great thing about home improvement is there is always the opportunity to change and refinish later. If the right choice is carpeting for while the kids are little, you can always refinish them into a more elegant wood stair down the road. The key is in creating the right living arrangements for how you live today.
---
About Pro Flooring Brokers
We are a one stop shop for all of your flooring and installation needs. Located in Denver, CO, we have been family owned and operated for over 30 years! Our passion is your project.
Have a Flooring Project in the Denver Area?
Commercial and residential customers love our huge selection of carpet, hardwood, porcelain tile, natural stone, luxury vinyl tile/planks, laminate flooring, and sheet vinyl flooring. Check out our products to learn more. Visit our showroom, meet our team, and let's start your flooring project together. We offer:
Complimentary on-site measuring
Flooring estimates based on floor plans or blueprints
Installations performed by trained and qualified installers
Full one-year guarantee on all workmanship (in addition to manufacturer's warranty)
Flooring and installation are made easy with the PRO! Flooring Brokers. Contact us, visit our showroom, or call today at 303.788.0113. We look forward to helping you.