How many different flooring styles do you have throughout your home? Most homes have a variety of flooring styles, from carpets in the bedrooms, to hardwood in the living room, to tile in the kitchen.
Without transitional flooring, multiple flooring styles can lack flow-through from room to room. Transitioning flooring bridges the gaps between different flooring types, making it look natural and stylish.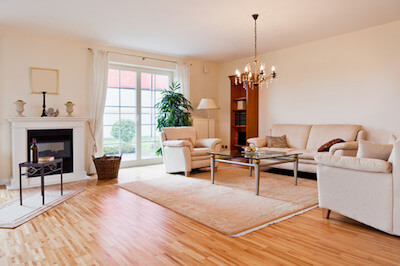 Here are a few things to consider when shopping for flooring.
Find the right spot for transitioning
Especially in open concept floorplans, there often isn't a distinct transition from room to room. This can be especially difficult if you choose to move from tile to hardwoods, between a kitchen and the living space. Often transitions are placed where they make the most sense. How do you live within the floorplan? Are there natural breaks for your lifestyle? Do you want the tile to extend into the breakfast area where you have a kitchen table? Or do you want the tile to only exist in the confines of where you cook your meal? Don't be afraid to play with shape. Separate floorings subconsciously designate different space. So you can create transitions simply by the placement of the flooring.
Mix the right way
Just like you would never mix colors and patterns in your fashion choices, your flooring should never mix floor patterns and styles as well. If you want tile in the entryway to flow into the hardwood throughout your living space, choose colors that harmonize well. Think about hues and textures. Don't try to mix too many patterns and shapes at once. If you want detailed tiles with colorful mosaics, don't mix it with parquet hardwood. Too much movement will overwhelm the senses. If you're going with soft, fine-grained hardwood, choose calm, plush carpeting that won't overwhelm. You want your transitions to complement, not compete.
Carry the theme
How would you describe the theme of your home? Country? Beachy? Modern? Don't forget this as you transition from room to room. You may choose to have the ease and durability of a luxury vinyl in your kitchen, transitioned to carpeting in your family room. Be sure the mood carries between the two in your decor and your furniture choices. A lack of transition will make you feel like you're walking into a different house entirely.
Explore your options
With so many flooring choices available today, it's easier than ever to create any look you choose. Tile is always a good choice, with its many colors, patterns, sizes, and options. Combine tile with woods in different colors and styles. You can even transition with floor pieces in different sizes and styles. Hardwood laid perpendicularly to the rest of the flooring can create an interesting look. Mosaic edges can also add sophistication. With today's options, the possibilities are virtually endless – all it takes is a little creativity to let your personality shine through.