Love the look of hardwood flooring but don't want the maintenance that comes along with it? Choose wood look tiles instead.
Yet even after you decide wood look tile may be the perfect choice fo you, you may have some reservations about how it will perform over time. Here are a few things you shouldn't be worried about.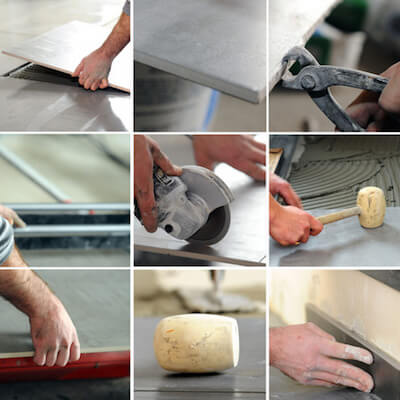 Myth #1 Grout makes wood look tiles appear fake
Hardwood planks rub against each other. Tile usually has grout lines running between. Won't it look fake once it's installed?
Look for wood tiles that have rectified edges, which means the edges have been mechanically finished, so they are precise and consistent. With consistency, you can place the plank tile closer together and have less grout between. Meaning you'll barely notice the grout once it's installed.
Myth #2 Tile is cold
Especially in a four-season location like Denver, we prefer hardwood over tile because of its warmth. Yet tile doesn't have to be cold. Wood look porcelain tile is very well suited to install over radiant subfloor heating. This can provide warmth no matter how chilly the outside temperatures turn.
Myth #3 Wood tile looks fake
How can tile look as good as hardwood? With today's technology, almost identical. With each change of technology, new wood look products improve. You'll find realistic textures and visual appearances so realistic you can't tell the difference without getting down on your hands and knees and feeling the difference.
Myth #4 Tiles can shift and warp
Any tile in excess of 15 inches can present a challenge once installed. However, if installed correctly, it won't be a problem. Plank tiles are available in a variety of sizes, 6 to 8 inches wide, 24 to 42 inches in length. Tiles should be staggered like real hardwood flooring patterns for maximum support. If you hire a certified technician to install your new wood look tiles, you'll have years of enjoyment from this one of a kind look.
Convinced wood look tile is in your future?