A lot of Colorado homeowners dream of using hardwood throughout their homes. It's a beautiful choice. It's aesthetically pleasing. Nothing says Colorado more than using wood throughout.
But if you've had hardwood before, as much as you love it, there might be something holding you back. It might be the care and maintenance – especially if you have kids and pets. What if there was another choice? 
Enter wood look tile.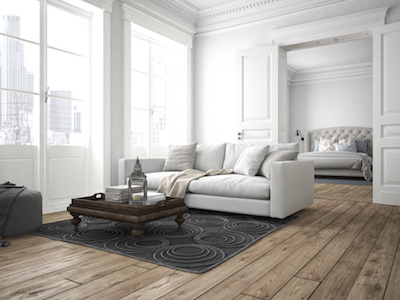 Wood look tile gives you everything you love about hardwood flooring, with the ease and durability of tile. 
Wood look tile is one of the most sought after flooring choices in the industry. Changes in technology have made wood look tiles more realistic than ever before. But you'll know the difference. You'll have style and personality, aesthetic beauty, and an easy to maintain flooring choice perfect for your active lifestyle. 
Not sure if wood look tile is right for your home? That's why we've created this handy guide to give you all you need to know about this growing floor trend. And when you think you're ready to start finalizing your decision, stop by. We can help you narrow your selection and choose the perfect tile for your unique tastes. 
What is wood look tile?
A wood look tile is ceramic or porcelain tile designed to look like hardwood flooring. It replicates the aesthetics and appearance of natural hardwood sourced from all kinds of trees. Love cherry hardwood? Or traditional oak? Or maybe something more exotic like reclaimed hardwood? There's a wood look tile for that. 
Ceramic wood look tile comes in a wide variety of sizes, colors, and tones. It can be used in many different applications. 
Likewise, porcelain wood look tile is designed to mimic almost any kind of hardwood you could imagine. And because porcelain tile is one of the hardest substances you can select for flooring, with a high breakage point, it's one of the most desirable flooring choices in busy households. 
If you drop something heavy on your porcelain wood look tile, chances are you won't be able to tell after you clean the mess up. Try that on traditional hardwood floors.
What are the benefits of using wood look tile?
One of the top benefits of using wood look tile is its durability. If you've installed hardwood before in high traffic areas in your home and been disappointed with the results, wood look tile may be the perfect solution for you. Wood look tile is perfect for day to day use, as it won't nick, scratch, crack, or warp like its hardwood counterpart. This means you can do day-to-day things without worrying about the implications – walking in heels, moving furniture, or playing with your cat or dog will no longer be cringe-worthy events. 
Maintenance is also a breeze. For many homeowners, hardwood is a daily chore. You sweep. You vacuum. You mop. You jump at every spill. You sand. You wax. And you start it all over again. 
If you've ever had tiles before, you know how much easier they are to maintain. Tiles have an easy-to-care for surface that can be cleaned with a wipe of a sponge or a swish of a mop. You don't have to worry about every spill because tile will never warp. It requires minimal maintenance, and it will never stain the way more traditional hardwood choices can. Of course, that depends on the wood look tile you select, so it's always important to talk with one of our flooring consultants to understand the nuances of your final selection. 
And, of course, wood look tile is the perfect selection if you've been dreaming of installing radiant heating. Yes, you can install radiant heating under some hardwood selections. But it can be a difficult process, one you'll have to watch out for to prevent warping and cracking. That's where wood look tile excels. Tile and radiant heating are made for each other. This gives you a win-win for aesthetics and comfort. 
How long does wood look tile last?
As a homeowner, changing out your flooring isn't a fun job. It's not something you want to tackle on a seasonal basis. 
When you look at flooring choices, think durability. If you install it today, what are the chances it will still look good in a year? In ten years? Or more?
That's where tile excels. Because of its hard surface area, with the right care and maintenance, it can last for decades. It can be nice to know you'll only have to change out your flooring because you WANT to, not because you HAVE to. 
Does wood look tile scratch?
We get this question a lot, typically from busy homeowners that have bad experiences with their hardwood. 
Nothing can be more disheartening than having a pet make the first scratch minutes after the installer leaves. Or creating a deep gauge by moving a chair from here to there. 
While we can't tell you that it's impossible to scratch a wood look tile, we will tell you it's more difficult to do than with traditional hardwood flooring. Tile has a harder surface. It stands up better to normal, everyday punishment. 
With everyday living, it will look better for longer. And if that's what you're looking for, we'd tell you this is your perfect choice. 
Is wood look tile a fad … or here to stay?
Remember the bright orange shag carpet in your parent's home?
Or maybe the wild patterns vinyl displayed decades ago in kitchens across the land?
While people loved them at the time, they quickly became dated. Try selling a house when the flooring "screams" fad – it's not an easy process. 
So of course, you don't want to select a flooring choice and pay good money for something that will be out of date in just a few years. And while there is no guarantee with any type of flooring, we think wood look tile is here to stay.
Why? Because its looks and durability are hard to beat. It looks almost like the real thing, and yet it can be added anywhere in your home and provide you with exceptional results. Think kitchen. Or bathroom. Or laundry room. 
Should I use wood look tile?
Only you can decide if wood look tile is best for you. 
But if we've piqued your interest, why not stop by and look at our full display? Then pick a few samples and bring them home. See how they look in the rooms you are considering. Touch it. Feel it. Play with how they look at different times of the day. 
And discover why wood look tile may be the perfect choice for your remodel.