Back in the early 1900s, the way we decorate our houses changed in many ways. Can you imagine going back to a time without modern appliances? Or without insulation? Or without beautiful flooring?
Vinyl flooring first came popular in the years following World War II. It was considered a major upgrade over linoleum, and offered homeowners a choice in low cost, water-resistant flooring.
Like every flooring choice, vinyl has changed over the years. Today's sheet vinyl is not what your grandmother had installed in her little bungalow. Today's sheet vinyl is a highly durable, multilayer flooring choice that is great in high traffic areas, areas where moisture may be a problem, and commercial floor plans. It also comes in a wide variety of sizes and styles, looks, and patterns.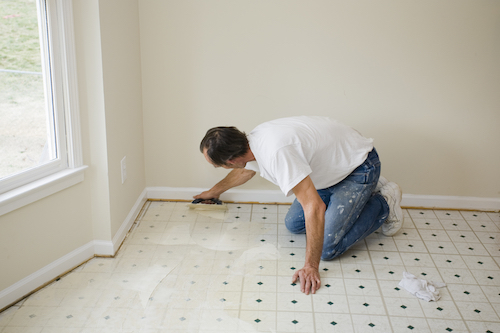 Are you considering sheet vinyl as a flooring choice? Let's take a closer look.
What Is Sheet Vinyl?
Sheet vinyl is a multilayer, highly durable flooring choice that economical and easy to maintain. It's easy to clean, and if you've ever worried about having it look dingy after just a few short months, stop worrying. Today's sheet vinyl can look good for years.
What's more, depending on what flooring you already have in place, it can be one of the easiest to install. If you want to change your decor, sheet vinyl is one of the easiest flooring choices to install.
Sheet vinyl is created with several layers to provide strength, durability, and aesthetics.
The most popular sheet vinyl contains a fiberglass layer that keeps the sheet flat and prevents it from curling over time. This fiberglass material also makes it easy to install, using a double-sided adhesive tape for installation rather than relying on messy adhesives.
Sheet vinyl also contains a wear layer and a topcoat, to help prevent scuffs, scratches, and other dings from normal, everyday use. Think of the wear layer as your protection from everything you do in your daily life.
This wear layer comes in different thickness levels. In low traffic conditions, you can get by with a lower wear layer option. However, in high traffic areas, select the highest wear layer for maximum performance. You'll typically find wear layers in 10mil, 12mil, and 15mil sizes.
Sheet Vinyl Comes In Different Widths
When most people here "sheet vinyl," they think of large rolls you can quickly unroll across a room and glue into place. But there's more to sheet vinyl then rolls. When you're dealing with sheet vinyl, the width plays an important part in the overall look, wear, and design.
As sheet vinyl grew in popularity, manufacturers quickly realized that one of the most difficult parts of installing it was the width of the design. Homeowners didn't like having seams in the middle of a room, especially if they frayed and wore badly, leaving an unsightly mess. Cutting large sheets also seemed senseless in a narrow hallway, especially if you started losing some of the design.
Why not have sheet vinyl in many different widths? And that really was the start of vinyl's opportunity. Did you know today, the most common width is just 12 inches?
Before you head into our showroom, take a few measurements of the room you're ready to install new flooring in. They stop by and let us show you how you can decorate your space. What about plank tile just a mere 4 inches in width? Or stick with something wider – more standard – and move up to 13 feet in width? It all depends on your needs and desires.
Let's Talk Style – You'll Find Anything's Possible With Sheet Vinyl
You can't talk width without considering style first, right? After all, you aren't just looking for a flooring choice that's functional; you want good looks too. And that's really the beauty of today's sheet vinyl.
Let's start with wood-look sheet vinyl. Everyone wants hardwood in their homes and commercial locations. But for a lot of situations, traditional hardwood just doesn't make sense. Now you can have the look, yet choose durability and ease of care too.
What's more, wood-look sheet vinyl can have even more options than you'll find with traditional hardwood. Want gray wood floors? You'll find it. Want to go as dark as possible? You'll find that too. And while darker wood is often harder to care for, you'll find dark sheet vinyl easy to maintain.
Like the idea of stone tile instead? Why not give stone-look sheet vinyl a try. It's extremely popular; you can get the look of a stone floor at a much more economical price. It's a great choice for bathrooms or kitchens. And because it's softer than stone, it's also a great choice if you have kids or seniors that are at risk of falling. You'll love the softness factor sheet vinyl offers.
If you can find a stone you love, you'll find the same look in sheet vinyl. Concrete, travertine, granite, and marble, there are all kinds of looks available that can provide you with classic designs.
Still Have Questions About Sheet Vinyl?
The best way to see if sheet vinyl is a good fit for your home is to stop by and see our entire vinyl flooring selection. But we also wanted to ensure you had a few more of your questions answered.
Is sheet vinyl really easy to clean?
Yes! If you've heard nightmares about cleaning and waxing, you've been listening to stories about linoleum. Sheet vinyl can be cleaned by sweeping and vacuuming dirt or debris. Use a damp mop for removing and spills or stains. Be sure to wipe away liquid spills and remove standing water. While it is moisture-resistant, you never want to allow liquid to stand and have the opportunity to penetrate through the seams. And depending on the spill, it can stain or discolor the top layer if left on the floor too long.
Can I install sheet vinyl myself?
Yes! That's the beauty of sheet vinyl. With just a little bit of handy skills, you may consider installing this flooring yourself. Of course, if you want a professional look and feel, you may decide it's best to leave it in the hands of a true professional. But it's entirely your choice; you decide how to install it.
Can I install sheet vinyl anywhere?
Sheet vinyl is one of the most forgiving floorings to install; you can install it virtually anywhere. If you have a level subfloor in place, installing sheet vinyl is an easy task. How about the kitchen? Or bathroom? Or laundry room? It can make a great addition to your basement. Or how about the wine cellar? You're gonna love how sheet vinyl spruces up just about any room in your home or commercial location.
How can we help you select the right sheet vinyl for your home?