As we continue to move forward as a society in the midst of the coronavirus, one thing is for sure: we don't have a great understanding of prevention methods. Of course, this will change over time. But right now, when you want to do right by your family, it's difficult to know what to do. It's hard to separate fact from fiction, and rely on the right resources for the information you need now.
Every industry, every niche, is scrambling to figure out the best direction to go. Flooring is no different. We're continually evaluating the impact of the coronavirus and how it can be distributed between people.
What we do know
The best course of action is to follow the advice from leaders who make it their business to learn more about taking action.
The CDC has general guidelines for how to clean and disinfect different items in your home.
For hard surfaces – non-porous surfaces:
Wear disposable gloves while cleaning and replace them after each cleaning. If you use reusable gloves, be sure to clean and disinfect them immediately after use.
Clean all surfaces before you disinfect.
Use an EPA registered cleaner to ensure appropriate cleaning and disinfection. Use them according to guidelines to avoid health problems.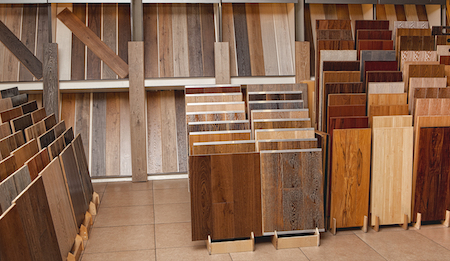 For soft surfaces – porous surfaces:
This includes things like carpet and rugs. Clean with an EPA-registered cleaner according to manufacturers guidelines.
At this point in time, we're still not sure how long the coronavirus can remain on various items throughout your home. It depends on the surface structure – is it porous or non-porous? Studies show it can survive anywhere from 2 hours to a couple of days, depending on the surface.
Of course, it's important to restate that at this time, we just don't know.
Which makes cleaning your surfaces and installing the right materials in your home that much more important.
Porous vs Non-Porous Flooring
There are many ways to separate out flooring. When you think about cleanliness and the ability to keep it clean, thinking in terms of porous and non-porous flooring can help you determine the right flooring choice for your home.
A non-porous floor stops soil and moisture from penetrating within. These would include things like glazed ceramic tiles, glazed porcelain tiles, and vinyl.
Porous floors would include materials including non-glazed tile, carpet, and hardwood.
A non-porous floor is easier to clean. That's why they are commonly found in commercial applications, especially warehouses, medical facilities, and schools.
Porous flooring is often found in residential settings because of its ease of use and comfort features.
Will we start to rethink our flooring choices because of the coronavirus? Only time will tell.
But if you're considering new flooring for your home, and the idea of installing non-porous options are piquing your interest, we have a few choices in mind.
Vinyl
When many of us think about vinyl flooring, we picture the stuff we found in our grandmother's bathroom. It was yellowed, curling around the edges, and frankly, not very aesthetically pleasing.
Even today, if you walk the aisles of your local big box store, you might see large rolls of sheet vinyl and think: Nope, not for me. It's so … clinical. It just doesn't look very good.
That means you haven't taken a good look at what today's vinyl flooring really looks like.
Vinyl is created with synthetic polymer, essentially a plastic that will hold up well in your home. Vinyl is made up of several layers to give you a product that looks great and lasts well too. It has four layers that include:
A backing layer made from felt or fiberglass
A core layer made from plastic
A decorative layer that can imitate some of the best flooring products on the market
A protective layer also made from plastic, called the wear layer
In the luxury vinyl tile market – LVT – these flooring choices can imitate stone, tile, hardwood, and more. In some cases, they appear to be so real that even people in the business have to take a closer look to see that it's not the real thing.
And they handle better than the real thing in a lot of situations.
They're waterproof – they stand up to water and spills, meaning you can clean them well.
They're stainproof – that nonporous surface means common staining items can't penetrate the surface.
They're comfortable – vinyl has give, making it a comfortable choice if you stand a lot, especially in places like the kitchen.
They're budget-friendly – if you're looking for an economical way to upgrade your room, look no further than LVT.
Glazed tile
Ceramic tile may be the one flooring choice that looks good in every room in the house. Here in Colorado, you'll often find it in bathrooms, laundry rooms, and kitchens. But we predict that it will soon be spreading to other rooms in the home as homeowners contemplate their flooring choices.
Glazed tiles have a hard surface that will not attract or hold on to dust, dirt, pollen, or other allergens. That's a big plus for homeowners where a family member has a compromised immune system. It's also a plus for homeowners concerned with how easily they can wipe down every fixture in their homes.
Tile is also one of the most versatile flooring products, one that can take on almost any look you desire. Keep it subtle with a neutral color. Go bold with something dark or bright. Create a mosaic effect by mixing colors and sizes. Or create elegance by using modern technology to mimic hardwood.
Yep, that's possible with today's technology. Select them in plank style and lay them in similar fashion as your hardwood, and you'll have the good looks you demand combined with functionality that can last for decades to come.
What's more, many homeowners are giving this trend a second look because you can install them over radiant heating. If you thought tile was too cold for our Colorado winters, you'll love having toasty flooring to step down onto even on the coldest of mornings. And because heat rises, what better way to keep your home better temperature-controlled than by having the heat start at the bottom?
What's the right choice for you?
While none of us know what the future holds, one thing is for sure: we'll be changing the way we look at our homes.
If your home needs new flooring, and you want a floor that's both durable and can be cleaned easily no matter what is tracked into your home, consider nonporous flooring – tile and vinyl might make the perfect choice for you.