When you're ready to take on a remodeling project in your home, it's easy to get lost in design. After all, that's the fun part. Picking out colors, styles, patterns, and materials are things you can touch and feel.
But once your new flooring is installed, that's where the problems begin if you cut corners in the wrong places. Cutting corners can mean different things. It can mean buying inferior products. It can mean selecting something based on price alone. It can mean turning your tiling project into a do-it-yourself project, even when you know you don't have the skill.
In fact, according to one recent survey, after surveying over 2,000 Americans that have attempted DIY projects, floor tile installation was the most regretted project of all.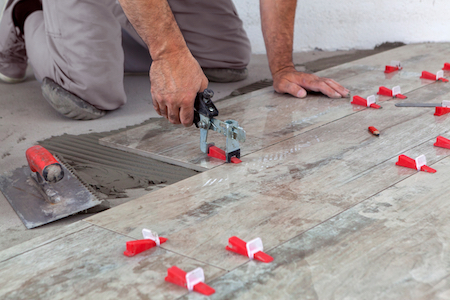 Why? Because it can be much more complicated than it seems. You need the right skills and tools, something most homeowners just don't have. And that can lead to big problems.
If a tile is misplaced, for instance, it can throw the entire project off. It has a ripple effect on the rest of the project. In many cases, the only way to fix an error is to rip up the entire flooring and start all over again.
Want it done the right way the first time? Hire a tile contractor to ensure the flooring is installed the right way. While it's a good idea even with a simple project, where tile is lined up in a relatively square room, it's an even better decision to hire as the job becomes more complicated. Looking for an intricate pattern? Want special edging? Have a living space that is anything but square? Hire a tile contractor and know it's installed correctly.
So how do you find a good tiling contractor? How do you know they'll do a good job? Consider these five things as you make your final selection.
Start with experience
No matter how big or small your remodeling project is, cost matters. You only have so much funding budgeted for your project. The more you can save in certain areas, the more you can spend on others.
Resist the urge to cut on the most critical projects, like flooring. Your flooring is the base for your entire room design. Imagine carpet that wears quickly, or hardwood that buckles or warps. Instead of being proud to show off your room, you'll have to spend time and money correcting the problem to make it livable again.
Don't hire the handyman who tells you he's tiled a floor several years before. Don't rely on your next door neighbor who's trying to earn a few extra bucks. You'll never save money when you have to repair problems almost as soon as the flooring has been laid.
Ask about experience. Ask to see referrals. Focus on finding someone who's laid tile in rooms similar to your own. If you want an intricate design, for example, ensure they can show you photographs that show off their artistic abilities.
Talk with professionals
When people are already in the business, they know other people who have skills and talents in doing what you want them to do. Don't be afraid to ask contractors, architects, designers, and even our own sales staff for recommendations. We have experience working with professionals, and know who is the most qualified for the job you'll be hiring for. We'll give you the people we trust enough to recommend on a regular basis.
Also, ensure you look for the right contractor for the job. Tile laid in residential is different than commercial environments. And while laying tile is somewhat similar, commercial tile will need more wearability overall. Commercial tile installation is a growing field because of the demand.
Ensure contractor is properly licensed
If everything goes right with the job, licensing and warranties might not matter. But without them, you could face many problems in the future. Always ask about certification, incensing, and if they have current insurance. A reputable contractor will always be happy to share the information. One who is less than reliable will give you reasons why it's not important.
Also, look for membership to professional organizations such as the National Tile Contractors Association (NTCA). This tells you that the contractor is in business for the long haul, and cares about the image he displays to his prospects and customers.
You can also ask about training. Have they trained through organizations like the Ceramic Tile Education Foundation (CTEF)? Organizations like this provide their own certification programs to ensure students have the proper training and are equipped with the latest techniques using today's technology. It's the best way you have to ensure you'll receive service that will last.
Ask questions
The hiring process should never be one sided – don't let a contractor do all the talking. By asking questions, you can start to determine just how knowledgeable a contractor really is. Key questions should include:
How do you determine how much tile the project needs?
How long will the project take?
Who will be working on the project?
Are they all properly trained?
Have you ever worked on projects like this before?
Be specific. Remember, no question is ever too dumb. You don't have new flooring installed every day. It benefits you to fully understand the project long before the contractor steps foot into your home. Ask your questions, then ask some more. It's the only way you'll ensure you get the right flooring you'll enjoy for many years to come.
Ask to see pictures
Many people will tell you to ask for recommendations. And while it is a good idea to talk with people that have used a contractor's services before, there could be a world of difference between their project and your own.
When you ask to see pictures of final projects, you can determine skill level and how well they perform. Don't look at it for the big picture, ask to see details too. Look for tiles evenly spaced, and finishing work to complete the look. Pay attention to how tiles are cut all the way around the room. A good tile contractor knows how to handle every situation. They know how to make a room look good, and how to finish a job for an elegant look.
When in doubt, go with your gut. Don't trust just anyone; look for someone who will do a good job for you. Your flooring can last years – decades if done right. When you hire the right tile contractor, you'll be ensured you'll get the very best service, and the job will be done the right way the first time.