Trying to give your home the right energy? Looking to introduce feng shui techniques into your home décor?
Energy-wise, your flooring is your foundation.
There are many types of flooring out there – woods, laminate, cork, linoleum, stone, carpeting and more.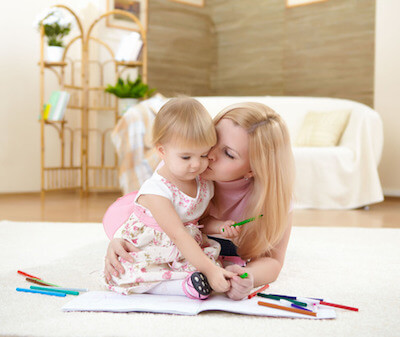 You can find different finishes, patterns, styles, colors and grains. Does placement matter? Does size of planks matter? Yes. When it comes to good feng shui energy, it all matters.
It's best when flooring looks seamless, or continuous as it runs through your home from room to room, because it guides energy in smooth fashion. If you have dark plank wood in your kitchen and it flows to white tiles in the living space, the energy might stop at the door, interrupting or blocking the flow of energy.
In general, good feng shui energy of flooring depends upon three areas:
1. Material
There isn't a right or wrong choice of flooring for the rooms in your home. In general, flooring choice should solely be made on personal preferences. And in most cases, choices that would cause bad feng shui are common sense – you would never put carpeting in the bathroom, would you?
2. Color
Because your flooring represents your foundation, it's best to select flooring colors that are earthy and natural. Classical wood floors offer good feng shui as they will make your flooring cohesive with the color choices throughout your home.
The same applies to all other flooring choices. Stone, tile, laminate, cork, carpeting – all natural hues are good feng shui foundations for your floors.
In feng shui, each color is considered to be an expression of one of the five feng shui elements: Fire, Earth, Metal, Water and Wood. Each of these elements governs specific areas of your home, according to the feng shui map of your space. When your choice of color is focused on strengthening and nourishing the element within the area you are decorating, the result is good feng shui.
3. Pattern
Feng shui is about energy flow. When installing patterns or flooring with distinct flow, it's important to place the boards in an obvious pattern. You don't want to lay wood planks width wise across a narrow hallway. You shouldn't lay planks down a narrow hallway and out through a window.
Good feng shui is about inviting, channeling and keeping things inside the house – happy and strong. It's about allowing the energy to settle in the important rooms in your home, and keeping stability and nourishment within.
Always ask yourself "where does the pattern direct energy to?" The direction of the floor boards guides energy either in or out of your house. Do not let energy escape before it has a chance to nourish your rooms.