Are you considering a basement renovation?
One of the critical decisions you'll have to make is choosing the right flooring for your space. Basements often present unique challenges when it comes to moisture and temperature fluctuations.
That's where engineered flooring comes into play. More homeowners are looking to engineered flooring as the best solution for their plans. Is it right for you?
What is Engineered Flooring?
Engineered wood flooring is a versatile and innovative alternative to traditional hardwood flooring. It consists of multiple layers that are designed to provide stability and durability. The top layer, known as the wear layer, is made of natural wood veneer. Beneath the veneer are layers of high-density fiberboard (HDF) or plywood. These layers are bonded together using heat and pressure.
The result is a flooring material that looks and feels like hardwood but offers enhanced durability and stability. Engineered flooring comes in a wide variety of wood species, finishes, and styles, making it a versatile choice for any room in your home.
Understanding Below-Grade Flooring Requirements
Basements are considered below-grade spaces, meaning they are below ground level. This unique environment brings specific challenges that must be addressed when selecting flooring.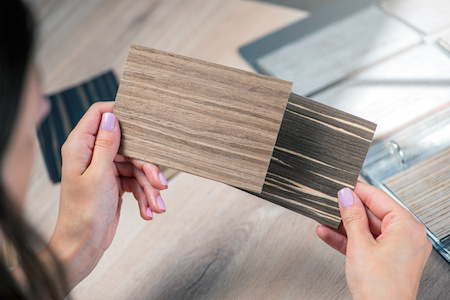 Basements are notorious for high humidity levels and occasional water intrusion. The concrete slab below your basement can release moisture over time, potentially damaging traditional hardwood flooring. Additionally, basements are susceptible to flooding, especially in regions with heavy rainfall or high water tables. Moisture can cause hardwood to warp, swell, or even rot, leading to costly repairs or replacements.
Basements also tend to be cooler than the rest of your home, and they may experience temperature fluctuations. This can impact the stability of traditional hardwood flooring, causing it to expand and contract, which may result in unsightly gaps or warping.
Given these challenges, it's crucial to choose a flooring material that can withstand moisture and temperature variations without compromising aesthetics or functionality.
Why Engineered Flooring is Perfect for Basements
Why should you consider engineered flooring for your basement? We have several reasons.
Aesthetics
Appearance is probably at the top of your wishlist. Engineered flooring offers the elegance and beauty of solid wood, with a wide range of wood species, finishes, and styles to choose from. Whether you prefer the warm tones of oak, the rich colors of cherry, or the contemporary look of maple, you can find an engineered wood flooring option that complements your basement's design.
Engineered flooring's genuine wood veneer provides the authenticity and charm of hardwood, allowing you to create a cozy and inviting atmosphere in your basement without compromising on style.
It Offers Water-Resistance or Waterproof Options
Engineered flooring is available in both water-resistant and waterproof options. Water-resistant engineered flooring features a protective finish that helps repel moisture, making it suitable for areas with occasional spills or moderate humidity levels.
Waterproof engineered flooring goes a step further. It is designed to withstand more significant water exposure, making it an excellent choice for basements prone to flooding or high humidity levels. Waterproof engineered flooring typically includes features like a waterproof core and sealed edges to prevent water from seeping into the flooring layers.
With these options, you can confidently install engineered flooring in your basement, knowing it will withstand moisture-related challenges.
It's Compatible with Radiant Heating
If you're planning to install radiant heating in your basement, engineered flooring is an excellent choice. Radiant heating provides efficient and consistent warmth by running heated water through pipes or electrical cables beneath the flooring. Engineered flooring's stability and resistance to temperature fluctuations make it an ideal partner for radiant heating systems.
The even distribution of heat provided by radiant systems ensures a comfortable and cozy environment in your basement throughout the year. Plus, the engineered wood's durability means it won't warp or crack due to the temperature changes associated with radiant heating.
It Offers a Long Lifespan
Investing in your basement's flooring is a long-term decision, and you want a material that will stand the test of time. Engineered flooring is renowned for its durability and longevity. The multiple layers in its construction, including the solid wood wear layer, provide excellent resistance to wear and tear.
With proper care and maintenance, engineered flooring can last for decades, even in the challenging conditions of a basement. This longevity not only saves you money in the long run but also reduces the environmental impact of frequent replacements.
It Can Increase Resale Value
If you're considering selling your home in the future, the choice of flooring can significantly impact its resale value. Engineered flooring's attractive appearance and durability can be a selling point for potential buyers. Many homebuyers appreciate the beauty of hardwood floors but are wary of the maintenance and potential issues associated with solid hardwood in basements.
By choosing engineered flooring, you can enhance your home's appeal and potentially increase its market value, making it a wise investment for both your present and future.
It's Easy to Install
Engineered flooring is known for its ease of installation, which can save you time and money during the renovation process. Many engineered flooring options are available as click-and-lock systems, allowing for straightforward DIY installation without the need for adhesives or specialized tools.
For a basement renovation project, where access and space may be limited, the simplicity of engineered flooring installation can be a significant advantage. You can have a beautiful new floor in your basement without the hassle of a lengthy installation process.
What to Look for When Shopping for Engineered Flooring
Now that you're convinced that engineered flooring is the ideal choice for your basement, here are some essential considerations when shopping for this flooring option:
Moisture Resistance – Choose engineered flooring with either water-resistant or waterproof features, depending on your basement's moisture level.
Quality of the Wear Layer – The thickness and quality of the wear layer affect the durability and longevity of your flooring. Opt for a thicker wear layer for enhanced resistance to wear and tear.
Type of Core Material – The core material can vary, with options like HDF or plywood. Be sure to pay attention to the quality of the individual layers for best results and longevity.
Installation Method – Consider the installation method that best suits your needs, whether it's click-and-lock, glue-down, or nail-down. Choose one that aligns with your DIY skills and the specific requirements of your basement.
Finish Options – Engineered flooring comes in various finishes, from matte to high gloss. Select the finish that complements your design aesthetic and maintenance preferences.
Warranty – Check the manufacturer's warranty to ensure it covers the specific conditions and potential issues that may arise in a basement environment.
It's Time to Choose
When it comes to selecting the perfect flooring for your basement, we feel engineered flooring emerges as a top choice. Its aesthetic appeal, moisture resistance, and easy installation make it a well-rounded and practical option.
Just be sure to carefully consider the features and characteristics that align with your basement's unique requirements when shopping for engineered flooring. With the right choice, your basement can become a beautiful and functional space that adds value to your home.
How can we help you finalize your decision?