If you own commercial property, flooring can be a problematic maintenance item. You want to invest in something that will wear well in the coming months and years, yet be flexible enough that you won't feel the pain if and when it needs replacing.
That's why many commercial property managers turn to carpet tiles. They've grown in popularity and offer so many options even homeowners are using them in basements or kids' playrooms.
Carpet tiles are great for heavy traffic areas
In bustling commercial spaces, foot traffic can be challenging for any flooring material. Carpet tiles may be the wisest choice you can make.
These little wonders are designed to withstand heavy use and abuse, making them an ideal flooring solution for areas where people come and go constantly. Unlike traditional broadloom carpets, carpet tiles offer enhanced durability. If a stain occurs or damage appears, individual tiles can be easily replaced. Say goodbye to the headache of replacing an entire carpet for just a small area!
Carpet tiles are durable and easy to maintain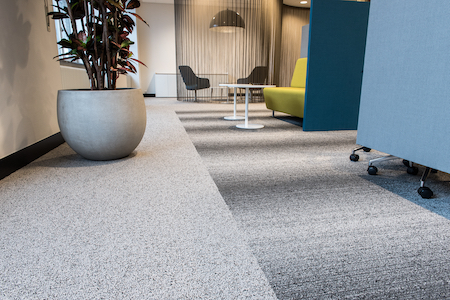 Property managers understand the importance of having a flooring solution that can stand the test of time, especially in commercial spaces where maintenance budgets are crucial.
Carpet tiles are made from tough, high-quality materials, making them resistant to stains, fading, and wear. Additionally, most carpet tiles come with a protective layer that repels dirt and liquids, ensuring easy cleanup and reducing the risk of permanent stains.
Regular vacuuming and occasional spot cleaning are typically all you need to keep your carpet tiles looking fresh and professional.
Carpet tiles are easy to install
Time is money. And in the fast-paced world of business, every minute counts.
Carpet tiles installation is a breeze compared to other flooring options. Traditional carpets often require professionals to stretch and install them, which can be time-consuming and costly.
With carpet tiles, you can lay them down quickly and efficiently. They typically come with an adhesive backing, eliminating the need for messy glue or tape. This not only saves you time but also minimizes disruptions to your business operations during the installation process.
And if you grab an extra box or two, you can pull up damaged tiles and replace them with new ones in an instant.
Carpet tiles easily fit into awkwardly shaped rooms
One of the most remarkable features of carpet tiles is their flexibility in adapting to any room shape or size. Unlike broadloom carpets, which may result in a lot of wastage when trying to fit them into irregularly shaped spaces, carpet tiles can be easily trimmed and adjusted to fit any nook and cranny.
This versatility makes them perfect for commercial spaces with complex layouts, giving you the freedom to create a seamless and professional look throughout the entire area.
Carpet tiles bring lots of versatility
When it comes to flooring options, carpet tiles are the chameleons of the industry. Their modular design allows for endless possibilities, allowing you to mix and match colors, patterns, and textures to suit your specific design vision. Whether you want to create a contemporary, minimalist look or a vibrant, eye-catching display, carpet tiles can adapt to your creative imagination.
Another perk of carpet tiles' versatility is their ability to integrate seamlessly with other flooring materials. You can combine carpet tiles with hard surfaces like vinyl or laminate in areas requiring more durable flooring, such as entrances or corridors. This transition between flooring types can be beautifully executed using transition strips, enhancing your space's aesthetics and functionality.
Carpet tiles are cost effective
Running a successful commercial property involves careful budgeting and cost management. Thankfully, carpet tiles come to the rescue again!
They are an affordable option compared to many other flooring materials, making them a budget-friendly choice for businesses of all sizes. Their durability and easy maintenance translate to long-term savings since you won't need to replace them frequently.
Investing in carpet tiles is a wise decision that ensures you get the most bang for your buck without compromising on quality and style.
Carpet tiles can allow your design skills to come to life
If you're a design aficionado, you'll love the creative possibilities carpet tiles offer. These tiles come in an extensive range of colors, patterns, and textures, allowing you to unleash your inner artist and create visually stunning floor designs.
Mix and match different tile styles to define zones within your commercial space, or use contrasting colors to make a bold statement. With carpet tiles, the design possibilities are virtually endless, and you can truly make your space stand out from the crowd.
Carpet tiles can be environmentally friendly 
Sustainability is becoming increasingly important in the world of design and construction. You'll be delighted to know that carpet tiles can be an environmentally friendly flooring option.
Many manufacturers offer carpet tiles made from recycled materials, which help reduce the demand for new resources and decrease waste in landfills. Their modular design makes carpet tiles easy to recycle, contributing to a more sustainable and greener planet.
On a national level, only 5 percent of carpet is recycled. That means hundreds of thousands of tons of carpet ends up in the landfill each year. Because you can replace damaged or stained tiles along the way, you'll be able to keep your flooring in place longer, meaning less waste in landfills.
Are carpet tiles for you? 
Carpet tiles are undoubtedly a professional flooring solution that ticks all the boxes for commercial spaces. They can handle heavy foot traffic, are durable and easy to maintain, and fit seamlessly into any room layout.
So, if you're looking for a practical, stylish, and professional flooring solution for your commercial space, don't hesitate to give carpet tiles a try. They are the perfect blend of functionality and aesthetics, making them an outstanding choice for any design-savvy business owner.
How can we help you choose carpet tiles for your commercial space?