People all across the Rocky Mountain region dream of having hardwood floors in their homes. They are one of the most popular flooring choices you can make.
Whether you're renovating and selecting hardwood floors replacement, or are moving into a new home and are choosing your flooring material for the first time, hardwood flooring offers a versatile, natural appeal that can complement any decor.
They are always in fashion.
But here in Colorado, you have another thing to worry about during the installation process: weather. Summers can quickly escalate well above the 100-degree mark. Winters can easily drop below zero and keep falling. And in the spring and fall, extreme highs and lows can all occur on the same day.
While that can be tough on our human bodies, imagine what it does to the hardwood for your new flooring.
Hardwood isn't forgiving like carpet or vinyl tiles. Hardwood planks are rigid when laid into place. Even though they are a living, natural material, the give they have is minimal at best.
Does a weather change impact how well hardwood flooring is laid into place?
The best time to install hardwood floors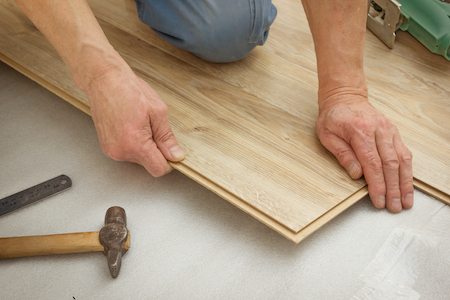 Winter, spring, summer, or fall? Which is the best season to install new hardwood floors?
Winter – winter seems like the perfect time to install new flooring. It's dark, cold, with not much else to do. Why not redecorate, and spend the time you're closed inside in a productive way?
Here in Colorado, winter is one of the driest times of the year. Winter naturally has less moisture than other seasons. On the coldest days, your furnace runs, and runs. That makes your living space dryer than any other time of the year. That lack of moisture leads to dryer skin and chapped lips. Now imagine what it will do to new hardwood. If wood isn't acclimated correctly before installation, it can cause planks to dry out and crack or become distorted after installation. That can lead to costly repairs.
Another problem can be with the adhesives used to install hardwood planks. Most adhesives state they won't work well in situations under 70 degrees. If your home is too cold, the glue won't adhere to the planks correctly, meaning the hardwood can shift and move after installation.
Spring – spring here across the Rockies can also be a challenging time of year to install new hardwood flooring. During these few months of the year, temperatures can vary greatly, as well as how much moisture we receive. It can remain a colder, low humidity time of the year, or it can warm up and move straight to summer.
Both dry and wet conditions can be problematic for hardwood flooring. Low or high humidity levels can cause newly installed planks to swell, contract, and warp. Acclimation is key to ensuring your installation process goes well. Also, pay attention to the weather conditions when you install them.
Summer – once the summer is here, Colorado residents come out of hibernation. We move outside, prefer to do all kinds of activities outside, and determine what home projects to take on.
Summer seems like the perfect time for a new flooring installation. It's easy to plan a staycation around your new addition – or head out of town altogether.
Yet the summer months can bring on the hottest days of the year. When your home regularly moves to 80 degrees and beyond, it can give your flooring adhesive a battle for bonding to the subfloor.
And if you happen to hit one of our endless rainy seasons, the increased moisture and humidity levels can play into how well your flooring is installed.
Fall – autumn is the perfect time of the year for all sorts of activities, including hardwood flooring installation. It tends to have the optimal mix of temperature and humidity levels for weeks at a time.
When you have extremes in heat, cold, or moisture, it can lead to various problems with newly installed planks, including cracking, warping, and cupping. Any damage will have to be repaired, which can be a costly endeavor so soon after your installation.
Here across the Front Range, autumn is usually temperate conditions with the lowest levels of moisture. You can leave your windows open, and enjoy the fresh air and breezes. That ideal climate makes it the perfect time for installing your new hardwood floors.
Pay attention to the type of hardwood installed
When you visit our store, you'll find a wide array of choices, even when you know hardwood flooring tops your list. Hardwood flooring is available in strips, planks, and parquet. Strips come in three pre-established widths but a variety of thicknesses. Planks come in a variety of widths, while only two set thicknesses. Parquet are wooden slats held together to create geometric patterns.
You can select hardwood that is prefinished or unfinished. While prefinished adds ease to the installation – install it and you are done – unfinished gives you the advantage of selecting any finish you desire, and sealing it all in when you're complete, including the spaces in between.
No matter what time of year, prepare the wood
While it's important to be aware of the type of wood you select, how it will function in your home, and how you seal it into place, pay attention to the preparation process too. Wood is a natural substance that changes over time. If it's shipped in from a location with higher humidity levels, it will need to acclimate to Colorado weather.
Before you install the planks into place, allow them to sit in your home for a few days to adjust to your environment. An indoor humidity level between 45 to 65 percent is best. Take them out of the packaging and lay them out where they'll be installed for 5 to 7 days.
Are you thinking of remodeling your home? Want new floors in place? If you want new floors, ensure you select the best season to install hardwood flooring, and you'll enjoy them for years to come.