Fix and flip. Income property. Retire on passive income. Every media channel you watch nowadays is filled with advice on average people investing in rental property that will drive revenue into their pockets. And for good reason.
Renting statistics show that the nationwide average for rental properties is $2,016 a month, with the current asking rent 77.1 percent higher than the median gross rent was pre-pandemic. With 35 percent of households living in rental properties, the desire for family rental property is at an all-time high. And if you're an aspiring property owner with the desire to make passive income from your investment, now may be the time to fix it up and get it into shape to maximize your revenue stream.
Where do you start? What home improvement projects offer the best investment? And how do you find the best flooring for maximum return? Read on to find tips to help you turn your rental property into a place renters would love to call home.
Renting – It's still home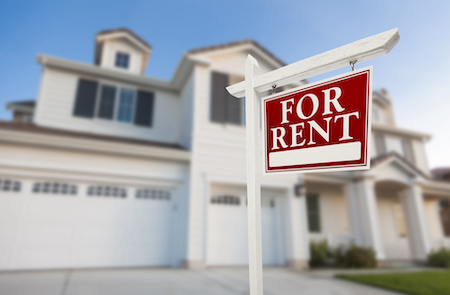 When you're looking at furnishings for a rental property, you approach it differently than you would your own home. For flooring, landlords must consider how durable a product is, how easy or difficult it is to maintain, and how attractive it is when a potential renter walks through the front door.
It's a careful balance of weighing the options to ensure a home looks like a home, yet won't be easily damaged by renters who may not care for the flooring as you would inside your own home.
What are the best flooring materials you should consider?
Luxury vinyl – it's one of the best things for a rental property
Luxury vinyl is an attractive flooring option that mirrors some of the best loved floorings across Colorado. Homeowners love hardwood and tile … but that doesn't always make sense in a rental property. Luxury vinyl makes it possible to create the look and feel of expensive hardwood and tile, with a more affordable price tag that won't cut into your rental profits.
What makes luxury vinyl so popular is current technology. Luxury vinyl is designed to mimic traditional hardwood planks and tiles that even the most discerning homeowners use in their own homes.
Luxury vinyl planks (LVP) have several layers:
The coating layer – this gives the product its strength and durability to stand up to all your family can dish out. It protects all other layers from daily wear.
The wear layer – the thicker the wear layer, the more durable the vinyl plank will be. The wear layer lies at the top between the printed design layer and the coating to provide overall protection to the luxury vinyl plank.
The printed design layer – this layer is all about visual appeal. It's the print film that gives the luxury vinyl planks their classic good looks.
The core layer – luxury vinyl planks have either a wood plastic composite (WPC) or stone plastic composite (SPC) core. WPC is softer, warmer, and insulates better for a quieter surface area, but can dent easier. SPC is harder and provides a more durable surface area, but will be louder and less comfortable.
Underlayment layer – this provides the insulation, moisture barrier, and stability of the overall product. The lowest end products may cut back on the underlayment layer in order to drive the cost down. This balancing layer can be especially important in areas that may see increased humidity or moisture, such as bathrooms or kitchens.
Luxury vinyl planks are a great investment because it's a marriage between what both landlords and renters are looking for. It gives renters a desired look and feel, while landlords love the low cost and maintenance. If you haven't looked at luxury vinyl for your rental property, stop by and see it for yourself.
Carpet – it's still a great option for a rental property
There's a reason carpet remains one of the most popular flooring materials available to homeowners: It's just a great flooring material.
That makes it an especially attractive option for rental properties because of its classic good looks. Of course, that's not the only benefit it brings to the table. Many landlords lean towards carpet because:
It's comfortable. That makes it attractive to renters of all ages, and works especially well in properties where you want to keep the flooring transitions to a minimum. Carpet works great in living rooms, dining areas, bedrooms, hallways, and bonus rooms.
It's sound absorbent. This is a great feature if you're adding flooring to multi-units with multiple floors. If you're trying to cut down on noise complaints, a quality carpet and carpet pad can help muffle sound.
It's affordable. Because of its popularity, you'll find quality carpet at every price point. If you want to make your home more appealing to renters, replacing the carpet is a good way to earn bonus points. And with a low cost, you'll find it easier to replace between tenants, and won't balk over flooring issues when tenants spill or damage the fibers.
If you're looking for an affordable, easy to replace flooring option for your rental properties, give carpet another look. It really is a great choice for single and multi-family dwellings.
Laminate – it's the next best thing to hardwood for your rental property
Home dwellers love hardwood. It tops every list of "dream home" wishes, whether people rent or buy. But for many landlords, it's difficult to justify installing hardwood in rental properties because of the cost and maintenance.
For some of your rental units, laminate may make perfect sense. Laminate is beautiful and relatively maintenance-free. It perhaps isn't quite as durable as luxury vinyl, but it comes in a close second.
Laminate is a hybrid floor covering created from a particleboard wood base topped by an image layer mimicking the look of traditional hardwood. They are a popular floor covering perfect for living spaces, dining areas, kitchens, bedrooms, hallways, and other areas not subject to excessive moisture.
As an added benefit, laminate is an easy flooring option to install. It can often be installed directly over an existing flooring product, saving landlords money on having to rip out and dispose of old flooring.
Which is the best flooring for your rental property?
With several of the best flooring options to choose from, which will be the right choice for you?
From luxury vinyl to carpet, to laminate flooring, select any of these for easy installation, maximum durability, and increased cost savings. You'll love what any of these best flooring options do for your rental property.