Take a look around your home right now. It's probably a place you've loved for years.
Yet if you look even closer, you'll hone in on the problem spots, the areas you would change if you could.
Studies show the kitchen is always at the top of that list. According to a Houzz survey, 43 percent of respondents remodeled the kitchen because they no longer could stand the old. An additional 40 percent said they would if they could, it's on the top of their wish lists, and they'll do it as soon as budget allows.
But to get the kitchen just right, it takes a pretty significant investment. Remodeling Magazine stated the average person budgets between $5,000 and $50,000 for a kitchen remodel, whereas the actual costs average somewhere around $64,000. Of course, what you spend is entirely up to you and where your desires lie. Some people dream of a complete remodel, from flooring to countertops to cabinets and updated decor.
No matter what your idea of a kitchen remodel is, one way to get the biggest bang for your buck is to start at the bottom – replace your kitchen floors, and you'll see a marked improvement in the way your kitchen looks.
What should you buy? Is hardwood or tile the best choice for kitchen flooring?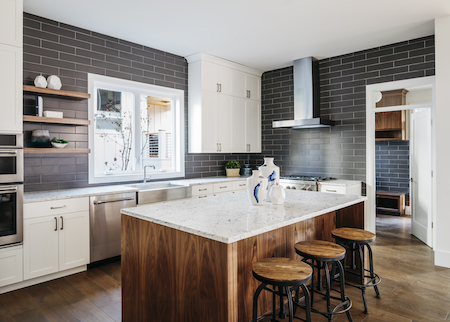 Let's look at both to help you determine the best choice for your home.
Why choose hardwood kitchen floors
It's hard to argue that hardwood offers a timeless classic look you'll love for years to come. Here in Colorado, there's something rustic about hardwood flooring. We use it everywhere, from residential to commercial applications, from small houses to ski chalets deep in the Rocky Mountains.
And even when you decide to install hardwood floors in your kitchen, your decision making doesn't stop there. Colorado has relatively dry weather year round. That makes it important to choose a hardwood that handles well in dry conditions. Choices can include:
Bamboo
Red oak
White oak
Hickory
Walnut
Brazilian cherry
Maple
Ash
They're all beautiful. They all make great choices throughout your home. They all can be versatile additions to your overall decor. It depends on how dark or light you wish to go, and how much maintenance work is acceptable for your lifestyle.
https://pro-flooring.com/does-hardwood-plank-width-matter/
If you're thinking about selling your home at some point in the future, you can never go wrong installing hardwood in the kitchen. Not only will it look great and handle well for you, but it'll also be a welcome sight for potential buyers who come through your doors. Statistics show hardwood flooring has a 70 to 80 percent return on investment. People love them, you can't go wrong with that.
Some people design a kitchen for its looks, while others concern themselves more with functionality. If you fall in the latter category, you'll love the durability of hardwood. It stands up well under pressure, it cleans up easily when you stay on top of messes as they happen. But more than anything, they handle well when you stand in your kitchen cooking up a storm. That's because hardwood is actually a softer flooring choice. It's a more resilient surface, and gives way under pressure. You'll notice it more – or should we say less – on the pressure of your legs and back.
Let's back up for a moment and think big picture. What flooring choices have you made throughout the rest of your home? Do you have hardwood stretching from the front door to the back? Do you use hardwood on the stairs? Does it extend into your living spaces, the family room, the home office, and the den? Then, by all means, extend hardwood into one of the most popular rooms in your home – your kitchen. Having the same surface running throughout will give you the perfect blend for your decor. Rather than having it look a bit choppy, stopping abruptly at the threshold of your kitchen, continue it on for a seamless transition.
Remember, your kitchen flooring choice is all about you, your personality, your lifestyle, and what you truly desire.
Why choose tile kitchen floors
Let's consider tile for your kitchen floors for a moment. There's something timeless and classic about the look, isn't there? Tile is perfect for all climates, all spaces, and can create any kind of mood in your kitchen space.
People select tile for a number of reasons. We'll start with durability. Kitchens can be messy places. They are most likely to have a lot of spills and accidents. Because tile floors are water-resistant, they make cleaning a snap. Which would you rather have when you drop a jar of pickles – tile or hardwood? With hardwood, you might be smelling remnants of pickles for weeks to come.
Even though you'll have a variety of choices, if you select hardwood, you're still limited by color and width of the planks. But with tile, when designers tell you there's unlimited possibility, they truly aren't kidding. If you can think it, you can design it with tile. Colors, patterns, sizes, textures, possibilities – it really is an endless supply of options. You don't have to select one size, shape, or color, and go with that. Instead, you can add your own personality into it, add borders of different colors, and mix it with patterns and even shapes. Your kitchen tile floors can truly be an expression of your personality, they can be artwork in their own way.
Maybe you want the look of hardwood, with the ease of cleanup that goes with tile. No worries; there's a tile for that. Yes, today's tile floors can even mimic the look of hardwood. It gives you the ability to go with an exotic look that wouldn't handle well under the pressure of being in a kitchen.
There's also another reason we like tile for kitchen floors: radiant heating. One of the biggest reasons Coloradoans doubt tile is because it's often thought to be a cold flooring choice. But if you add radiant heating underneath, it can actually be a smart way to heat your home. It can keep your feet warm while you make pancakes for the family on the weekends. It can help warm up the most popular room in your home while you're sharing a glass of wine in the evenings.
And tile floors are a lot easier to replace. They don't need acclimation to your home the way hardwood does. They can be replaced individually if you have a problem without needing extensive repair.
Is it better to have hardwood or tile in the kitchen?
So what's it going to be? They both have advantages, and both have their weaknesses. Ultimately, it's about what you prefer. Do you want hardwood for your kitchen floors? Or is tile the better solution for your kitchen remodel? Either way, stop by and let us help you select the right flooring choice for your home.